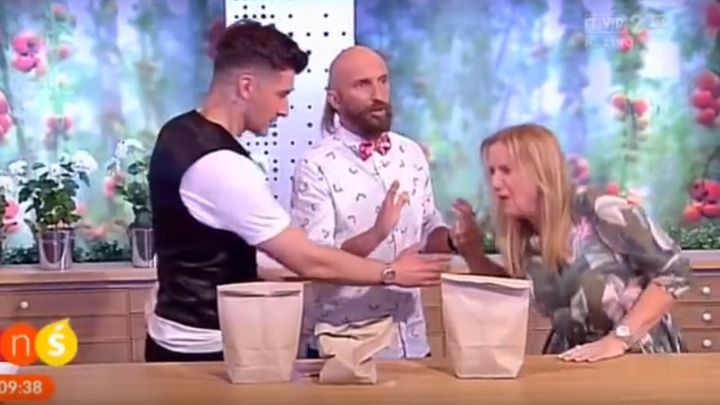 When Poland's Got Talent semi-finalist went on live tele to perform a magic trick, tv viewers never expected to see something like this.
The magician hid a giant nail in one of four paper bags before asking Question For Breakfast host Marzena Rogalska, 46, to smash it down with her hand, expecting her to hit an empty paper bag.
But the stunt took a very painful turn, when suddenly Marzena started screaming in agony – she had her hand impaled on a huge nail!
At first, the assistant appeared to be giggling but then they both realised that Marzena was in real pain.
Marzena screamed as she collapsed onto the floor, leaving the magician and his assistant looking worried.
They attempted to take a look at her hand but when it became clear that Marzena needed real medical help, they helped her off the set.
Marzena did not appear on the programme for the rest of its duration, reports Daily Mail.
According to producers of the programme, the trick had been rehearsed before the segment was filmed and had gone off without a hitch.
One YouTube user commented on the clip: "Look at that reaction. He must have thought she was joking until he noticed the nail dangling from her palm lmao."
After the incident, she was taken to hospital where her injury was discovered to be superficial and she was given a tetanus shot, reported The Sun."Marzena reassured fans she was okay, on Facebook, saying, 'Thank you for your support. I'm alive. Everything will be fine."
Here's the video if you're brave enough to watch!

Was this funny or scary?
Comments