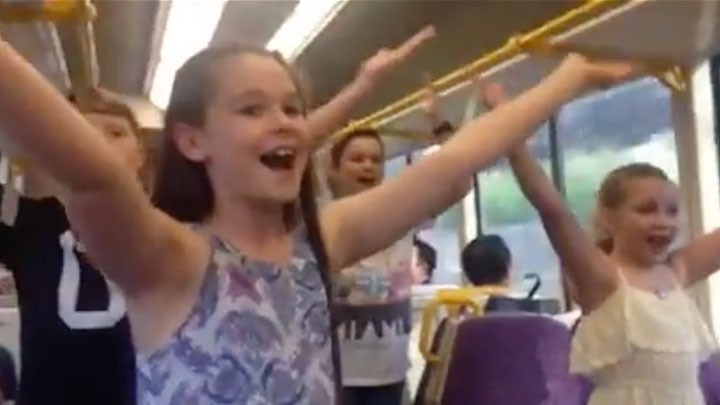 Have you ever seen a gesture so wonderful it can not only make your day, but have you feeling that the world is suddenly a far more joyful, wonderful and unpredictable place?
The Australian cast of The Sound of Music, currently performing in Brisbane, recently surprised a train full of passengers with an impromptu public musical performance of Do-Re-Mi.
Amy Lehpamer, who plays the role of Maria, begins with her signature opening. The young actors playing her stepchildren, sitting anonymously throughout the train, rise one at a time to join in, causing passengers' heads to swing back and forward in surprise.
Thanks to the quick thinking of a passenger, the entire performance was shared on Facebook, where it's now making the days of thousands more viewers.
We heartily recommend watching this absolutely beautiful video below. It's sure to put a skip in your step too.
First trip ever on the Brisbane trains and this happens! …. Just your average Thursday afternoon… A flashmob singing on the train. #thesoundofmusic #childhoodflashback #averagethursday Queensland Rail

Posted by Allport Millinery on Wednesday, March 23, 2016
.
How would you respond if you saw a surprise musical performance like this? Have you had the chance to see The Sound of Music on stage?
Comments