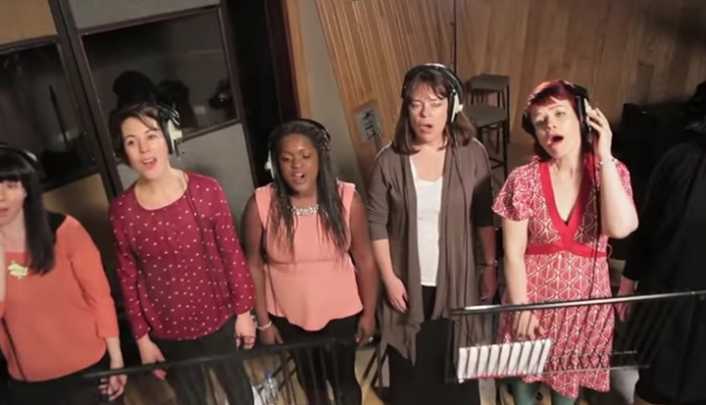 In a rather surprising and beautiful performance, the UK's Christmas Number One has seen an upset right at the post, with the NHS Choir winning over Justin Bieber with a superb effort.  Their choral performance of "A Bridge Over You" a blended cover of Bridge over Troubled Water by Simon and Garfunkel and Fix You by Coldplay is breathtaking.   
The Lewisham & Greenwich NHS Choir claimed the coveted yuletide chart crown jingling their bells to sales of more than 127,000 singles, 31,000 higher than Justin Bieber.  The choir jingle all the way to the Official Chart's Christmas top spot today with total combined chart sales of 127,000, nearly 31,000 ahead of their rival.
The story of the tussle between Bieber and the NHS choir is a rather entertaining one.  Official Charts reports that the NHS song was leading the chart week last Friday by 5,000 copies.
"The choristers' early lead narrowed after 48 hrs to just over 2,000 copies, and by day 3 (Monday) the tide had turned in favour of the Canadian pop superstar [Justin Bieber].
'By Tuesday it was looking like Bieber might have the race locked down as his advantage extended to 7,000 chart sales, but then the choir's appearance on BBC Radio 2's Chris Evans Breakfast Show that morning helped them claw back ground, the gap once again narrowed overnight, leaving a nail-biting 662 copies between the two contenders on Wednesday morning's sales flash.
Then Justin Bieber tweeted about his rivals, and people jumped on board to support the cause that is raising the profile of doctors, nurses, midwives and many others in the NHS, and having its proceeds go to worthy healthcare related causes.
I'm hearing this UK Christmas race is close…but the @Choir_NHS single is for charity. So…

— Justin Bieber (@justinbieber) December 23, 2015
Comments