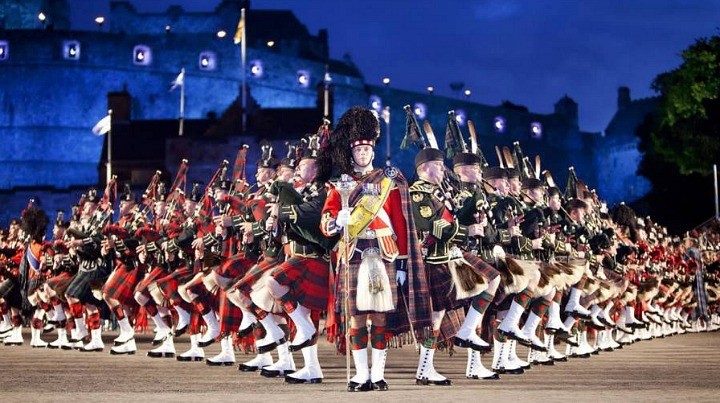 The Royal Edinburgh Military Tattoo has rolled in to Australia in preparation for the annual spectacular. It's only the fourth time the event has left Scotland and the first time it has been held in Melbourne. In preparation for the event, some of the musicians hit the beach to rehearse for the show – and perhaps to acclimatise to the Melbourne heat!
The televised event draws millions of viewers from around the world every year as fans tune in to watch thousands of musicians perform in perfect formation. The show is always a magnificent event, with perfect choreography and intricately detailed costumes. Plus, it gives people a chance to hear the bagpipes without having to hold their hands over their ears!
In the lead up to this year's show, the musicians treated fans to a sneak peak of their final rehearsals as they perfect this year's theme of "fanfare for the future". A life-size replica of Edinburgh Castle has been built just for the Melbourne show at Docklands Stadium, where the 90-minute show will take place this weekend.
Take a look at the pictures of the fanfare below.
Edinburgh Military Tattoo pipers take break from rehearsal on Aussie beach https://t.co/N6aUN8uQMB pic.twitter.com/N2kdParmTo — Scotsman (@TheScotsman) February 9, 2016
#Fiji #Tonga #NZ troops to perform dances before joining in Edinburgh Military Tattoo choir https://t.co/RfU7a6IccZ pic.twitter.com/eWPTzX2z3F — RA Pacific Beat (@RAPacificBeat) February 10, 2016
The Royal Edinburgh Military Tattoo marches into Melbourne https://t.co/LwMt2ym0W1 #music #livemusic #drums pic.twitter.com/AxcDXGKTfg — Planet Arts Group (@PlanetArtsGroup) January 26, 2016
RM Band Portsmouth with Army and RAF rehearse for Royal Edinburgh Military Tattoo in Australia. #RMBandService pic.twitter.com/eYAw7S8sqY — RM Band Service (@RMBandService) January 23, 2016
Will you tune in to watch the show? Have you ever seen the Military Tattoo live?
Comments