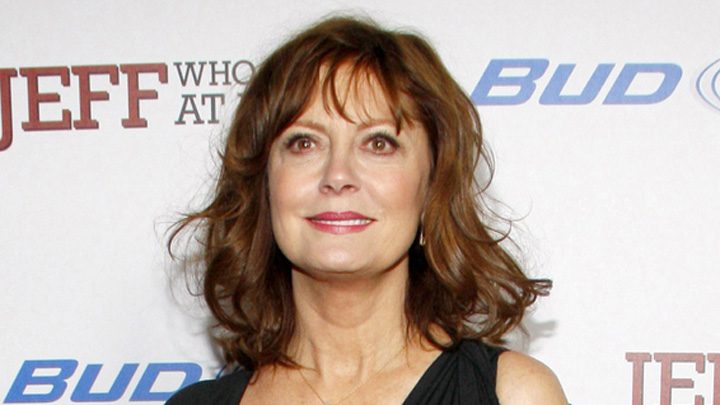 It's such a pleasure to know that Hollywood isn't just overrun by young twenty-somethings: there are still working actresses in their 70s, albeit it takes a bit to get noticed. One actress who certainly has no trouble with that is Susan Sarandon. At 69, the buxom actress is not slowing down. In fact, she says she wants women her age to be noticed more.
In an interview with the Daily Telegraph, Susan said, "GOD it's nice that you can get a part at my age where you're not dying or helping someone else die!"
She's just signed on as the new face of L'Oréal Paris this year, joining fellow spokeswomen Diane Keaton and Jane Fonda.
"L'Oréal is starting a conversation with women from their mid-forties to mid-sixties and older," she says. "Look at Helen Mirren; she's going from strength to strength.
"Hey, we're the boomers! We partied, we played, but we can be mums too; we have something to say and wisdom — well, let's hope! 'Visibility' — that's a great way to say it."
Why does she like showing off her famous assets? "Well, as an actor I could take my clothes off and bare my breasts if it worked," she says.
"How could skin be more harmful than something that portrays violence against women? I'd find that more irresponsible."
She discussed how in Hollywood, 40 was and still is considered old – an example being her iconic role in Thelma and Louise.
"There were more boundaries when I was coming up. Being 40 was a big deal. Even motherhood changed perceptions of a woman being considered sensual; a child immediately disqualified you from being a sex symbol.
"That has fallen by the by. As actors broke loose of the studio system and started having their own lives and creating their own projects, it has been harder to control the PR about women in film."
And she's still all rock 'n' roll too: she told publication the Daily Beast, "I'm not new to the idea of mushrooms…I like those drugs in the outdoors — I'm not a city-tripper. My attitude about marijuana is, 'Don't be stoned if you have to pretend you're not'"
She addressed the infamous Twitter scandal between herself and British journalist Piers Morgan who said her choice of attire at February's SAG Awards was: "Very tacky. Would Susan Sarandon wear this to a funeral? No. It was thus horribly inappropriate for an In Memoriam tribute."
"Wasn't that fabulous?" she said about the incident. "I loved how that spontaneously popped up. That's the grassroots solidarity that's possible on twitter. Piers obviously has waaaay too much time".
Gotta love her carefree attitude!
Share your thoughts below.
Comments