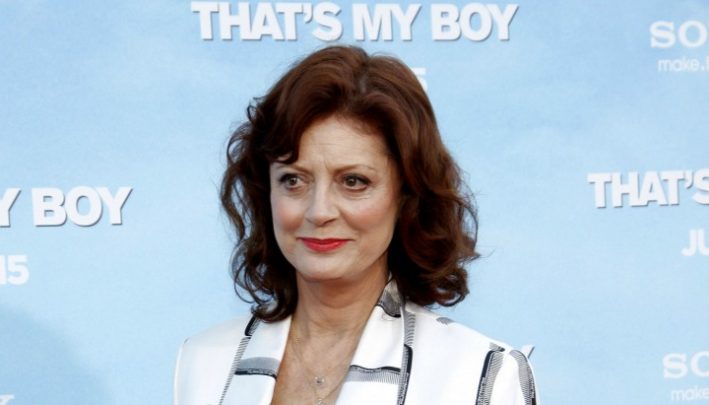 After Susan Sarandon collected her Inspiration gong at the Glamour Women Of The Year awards, she immediately jetted off to Italy where she took a shopping break in a hilltop town.
Susan looked simple yet sophisticated and the 69-year-old wore a stunning fringed scarf which added a beautiful texture to her ensemble. You too can try this trick to make your outfit more special.
She kept the rest of her outfit in neutral colours and spiced up her look with a pair of statement sunglasses.
Susan visited many boutiques and  took her time until she finally decided to give a chic suede navy jacket a try.
Susan couldn't look happier, especially as she spoke at the Glamour event to a well-heeled crowd – which included Sigourney Weaver, Kourney Kardashian and Holly Willoughby where she said, "I am inspired by women. Nobody multi tasks like women,' she said. 'We have to stop worrying about being perfect and do the best we can and have fun."
What a beautiful philosophy to have, Susan!
She was in Italy for the 62nd annual Taormina Film Festival where Richard Gere was photographed kissing and nuzzling his much younger girlfriend, Alejandra.
Many people would say that money can buy style but Susan shows that confidence is everything.
Which look do you like best?
Comments