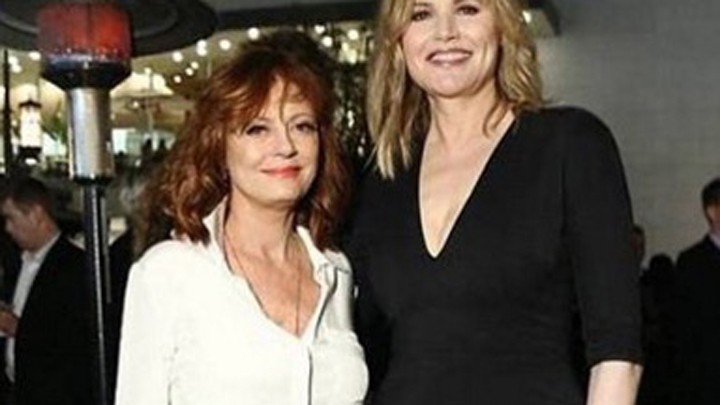 You gotta give it to Susan Sarandon for getting out there – the 69-year-old had a mountain fall recently, resulting in the need for a 'moonboot'. She didn't let it stop her, in fact she accessorised the big shoe with white satin fabric!
On the red carpet for the premiere of her new movie The Meddler in Los Angeles, the actress wore a white satin pant suit and was joined by her good friend and Thelma & Louise co-star Geena Davis.
The pair just celebrated 25 years since their classic movie, and looked very happy to be in each other's company again.
The fun-loving girls recently reunited for a photoshoot in Harper's Bazaar, and recreated that iconic image:
'When we did Thelma & Louise, I really didn't think it would have the kind of resonance it had…It wasn't seen as any feminist statement,' Susan told the magazine
'I was very concerned that it wouldn't be seen as a revenge film. The real thing Louise is asking throughout the movie is, "Why do guys think this is okay?"'
Geena sang her co-star's praises, saying 'The most liberating thing about filming Thelma & Louise was hanging around with Susan. She changed my life, the movie changed my life. She always gets embarrassed the way I talk about her.'
Susan's new film, The Meddler, sees her star alongside Australian actress Rose Byrne as her meddling mother, who follows her daughter across America to start a new life after the death of her husband.
There's been some other news in Susan Sarandon's life: her daughter Eva Amurri is pregnant, making Susan a grandmother for the second time. Susan announced the beautiful news on Twitter this week:
Best news ever. My sweet @TheHappilyEva is going to give Marlowe a little brother. Honey squared! https://t.co/3vcJL2NIcO

— Susan Sarandon (@SusanSarandon) April 12, 2016
Take a look at the pics of Susan below and tell us your thoughts!
Comments