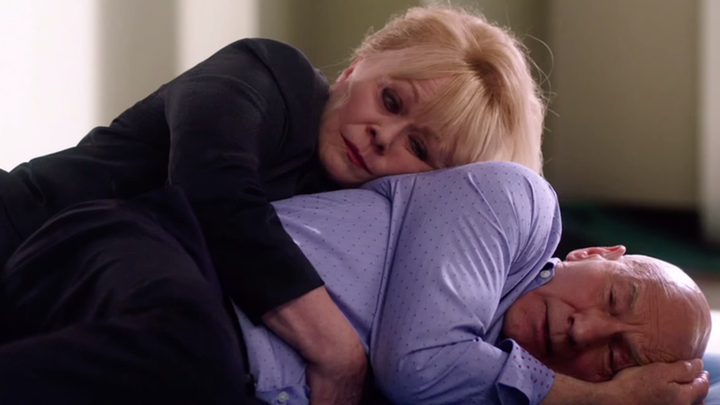 What are you watching on TV? Are you a reality TV person? Love an Australian drama? Television these days seems to be at a critical limit with the number of Free-To-Air channels and streaming services to fill any watching need that you have. Some shows, however, are so good that they will raise to the top of the piles of content and demand viewers
Blunt Talk is a new comedy that stars Sir Patrick Stewart as Walter Blunt, a British newsman that is trying to conquer the US News Market with a News Magazine show called "Blunt Talk". In his quest for greatness, his strange personality and desire for alcohol cause some bumps in the road on and off the air. Australian screen royalty Jacki Weaver co-stars as Rosalie Winter, Walter's producer and friend.
Most would know Sir Patrick from playing Starfleet Captain Jean-Luc Picard in Star Trek: The Next Generation from 1987 to 1994. Stewart also played Professor Charles Xavier in the hugely successful X-Men films and is a revered Shakespearian stage actor. The list of credentials to Stewart's name does make the idea of him starring in a mature comedy slightly strange. However, in an interview Stewart conducted with The Hollywood Reporter he said: "I have been dipping my toe into comedy more and more over the last few years, and finding it just makes me very happy." Stewart continues that "What I've found is despite our long hours, comedy was not just not hard, but as a performer, [it's] a liberating experience."
The show Blunt Talk was created by Jonathan Ames, who also created the critically acclaimed comedy Bored To Death. Ames knows how to combine slapstick humour, quick wit, and a battle with one's demons that makes the program hilarious without mocking the struggle.  While the language and situations could be confronting for some viewers, it is the charm of Stewart and the greatness of Jacki Weaver that makes it a must watch.
The complete first season of Blunt Talk is not available on the streaming service Stan.
Have you given Blunt Talk a watch? What other work do you love from Sir Patrick Stewart and Jacki Weaver?
Comments