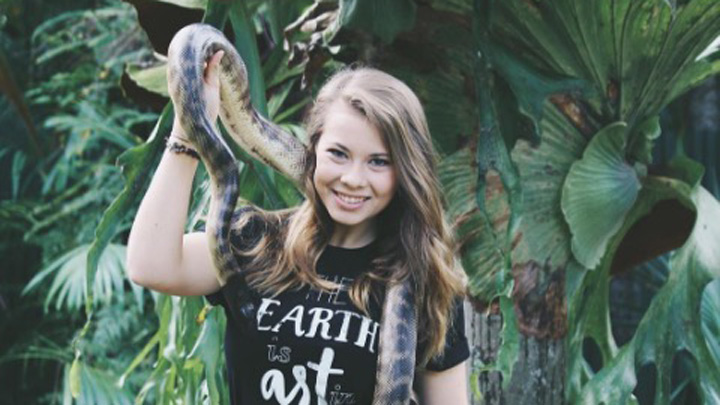 Ever since 18-year-old Bindi Irwin won the US version of Dancing With the Stars, the daughter of the late Steve Irwin has faced intense media interest. She was no stranger to the spotlight but it seems gossip magazines have caught wind of her relationship with an American wakeboarder and have since spread rumour after rumour about her relationship status.
At such a young age, Bindi is already having to fend off rumours she either engaged or has eloped, and now her publicist has come out strongly denying any wedding bells. But should they really have to? This is a young woman who is barely 18 and is already being married off in the media!
Woman's Day magazine said the boyfriend of the Dancing With The Stars winner was reportedly shopping for a ring – "He's been saving up since the start of the year," a source told the publication.
However reps for Bindi have rejected the story as "highly sensationalised".
"This is a false and highly sensationalised claim that has no truth to it whatsoever," a spokesperson for Australia Zoo told the Daily Mail Online.
Bindi herself has dismissed the gossip before, making light of the situation.
'It was so funny, I got back [to Australia] and I was doing something and someone said "wow, you got married!" and I was like "Umm, sorry, what?",' she laughed, reports the Daily Mail.
'So it is really interesting – I think that's a long way off and I'm just really happy and just enjoying every day that I have with him and just enjoying being young, so it's great,' Bindi said.
This week the bubbly teenager posted a photo of her holding an eagle, captioned "I'm grateful for each moment and the life I have been given to lead. I hope every day that I'm able to empower more individuals to stand up for what they believe in, and change the world. We have one planet, one chance, to create a beautiful future, for those yet to walk in our footsteps".
And last week she wondered if she was making her father proud – we can all agree she most definitely is and she should be free to be herself and make her own choices out of the limelight.
What do you think? Do you think this sort of scrutiny could be damaging to a young girl?
Comments