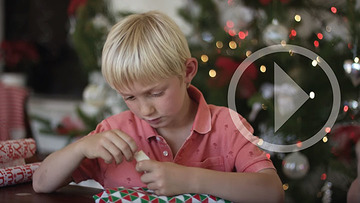 Has one of your grandkids ever worried that Santa might not stop for them on his way around the world because the big man might not know where to find them? Air New Zealand has brought a tear to our eye today with this video that captures the hearts of the little people in our lives grappling with change.
Little Archie has just moved from Broome in Australia to Queensberry in the South Island New Zealand and shares his concern with his mum and dad.
When asked what he'd do if Santa didn't find him he replies: "probably cry for about 12 days."
Every grandkid that might be worried that this could happen to them will love what his dad did next, working with Air New Zealand he hatched a plan to set landing lights and a massive "Santa Stop Here" sign across the paddock near their house.. Frankly, you have to watch to see the goodwill of the Air New Zealand crew in action.
Archie and his dad ride out to the edge of the paddock to get a birds eye view at twilight and the sight they get as the lights are turned on will bring tears to your eyes. The face of this little boy is priceless and show us all how special it is to give in to caring about the children and their love of Santa at this time of year.
Watch it today and share your thoughts.
This post is sponsored by Air New Zealand. Cheers to the awesome team who made sure Santa will be a bigger part of Archie's Christmas memories.
Comments