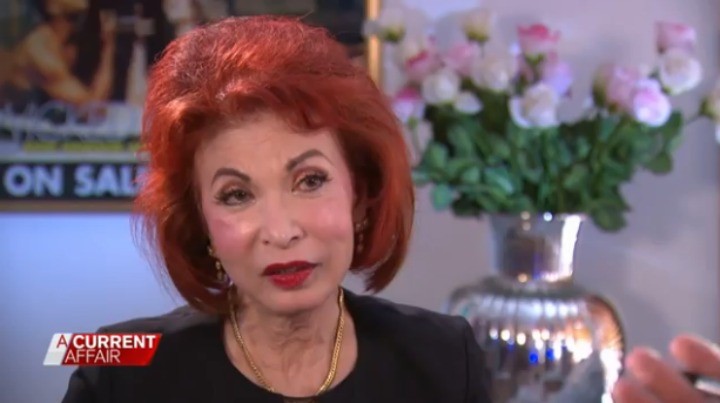 Do you remember, Rose, the firecracker wife of Gina Reinhart's dad, Lang Hancock? In 1983, she shocked everyone by marrying Lang who was the world's 'Iron Ore King' just three weeks after working as his housekeeper. It was a rags-to-riches story, a Cinderella tale, except not many could accept her outspokenness and flamboyance. Her life had been such a drama that a mini series called 'House of Hancock' was created based on it and aired on Nine Network.
For years Rose had been in the limelight but suddenly she went quiet.
Now, she has come out with what she says is her final interview before the moves to Spain to pursue her passion for Flamenco dancing.
#9ACA's @RayMartin with this special interview. https://t.co/VPm1DB8ZDB

— A Current Affair (@ACurrentAffair9) April 18, 2016
The interview with Ray Martin was an explosive, candid and flirty one where the 67-year-old revealed everything from what her breasts were made of to how she wanted people to remember her by.

"If anyone said to my face, 'You're a bitch', I would say 'Thank you', she told Ray.
"How nice to be a bitch. You have to have style to be a bitch. I hope you bury me upside down so the world can kiss my sweet, little arse," she said.
Rose has been called many things especially after she married Lang who was the richest man in Australia. But "murderer" is something that she will not accept. Rosie denied killing Lang, who was 39-years her senior and also trashed claims that she had affairs while they were still together. "Why would you kill the goose who laid the golden egg?" she said. 
"They think I was so busy fooling around. My goodness, I'm a one man woman," said Rose before she was seen giving Ray a peck on his cheek.
Be prepared to see glimpse of Rose's lavish life including a whole room built just to store her flats.
Do you think we'll ever hear from Rose again? Or will she finally live her life in privacy?
Comments