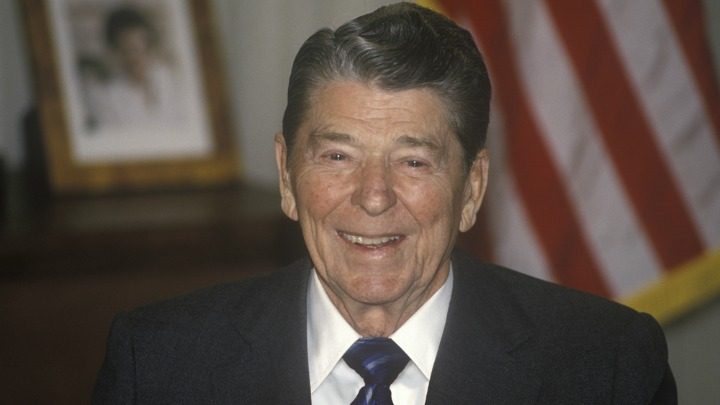 Ronald Reagan is set to be impersonated on the big screen as Hollywood actors line up for a chance to be in a new comedy about the late president and his battle with Alzheimer's.
However, Reagan's family has lashed out at filmmakers who are planning to make a comedy about his last days in office – making light of the fact that he suffered and eventually passed from Alzheimer's disease.
The film's plot is described as a slapstick comedy about Reagan's forgetfulness and struggles with dealing with his memory loss.
"When Ronald Reagan falls into dementia at the start of his second term, an ambitious intern is tasked with convincing the Commander-In-Chief that he is an actor playing the President in a movie," the movie's synopsis reads.
The announcement was met with strong criticism by Reagan's family, especially his son Michael who wrote on social media: "Alzheimers is not a comedy, first it robs you then it kills you."
Alheimers is not a comedy first it robs you then it kills you.#Alzheimers

— Michael Reagan (@ReaganWorld) April 28, 2016
Many other people joined him in condemning the movie for making light of such a serious subject.
Alzheimer 's is by no means funny. It kills treasured memories and robs you of your very existence.# WillFerrell

— Candace Browning (@candybrowning91) April 28, 2016
R/T If you think mocking President Reagan's battle with dementia by way of a comedy movie is insensitive to people afflicted by that illness

— John Miller (@JVM225) April 28, 2016
This movie mocks Reagan's fight with alzheimers. All involved should be ashamed. https://t.co/5JRtyW5Vfb

— Sarah Connor (@SConnorTX) April 28, 2016
Popular comedic actor Will Ferrell is set to play Reagan in the movie. Ferrell previously made a name for himself for his impersonations of George Bush when he was in office.
Reagan's wife, Nancy, recently passed away aged 94, so it is no doubt already a difficult time for the couple's family and children.
There is no release date for the movie yet, but many have already said they plan to boycott it in protest.
Others though say it's all in good fun and that movies like this get people talking about the subject of Alzheimer's, which helps spread awareness.
What are your thoughts on this?
Is it ok to make light of this issue in the name of comedy? Or is this disrespectful to Reagan's family and all Alzheimer's sufferers?
Comments