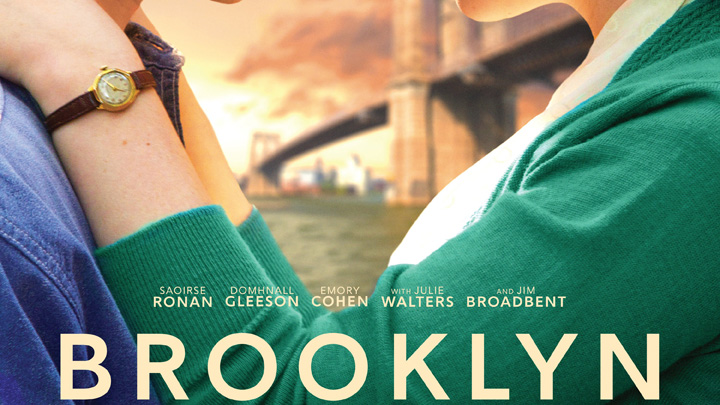 This is my era of movie, set in the 1950s. I can so identify with the clothes, the furniture, the morals, the behaviour, the food – it's easy to connect to this film.
Eilis (Saoirse Ronan) is an Irish girl who is encouraged by her older sister to leave her struggling family in County Wexford and find a life in the new world offered by post-war America. Her sister played golf with the now Brooklyn resident, the very pleasant and affable Father Flood (Jim Broadbent) and he finds her accommodation and employment. Eilis struggles to adjust to life in America, both in the boarding house run by the colourful and funny Ms Kehoe (a terrific Julie Walters), and in the ritzy up-market Bartocci store where she works as a sales girl. She battles with many of life's obstacles including: melancholy, catty and envious housemates, heartbreak and romantic awkwardness … all while dealing with the overwhelming nature of her new life.
Ms Kehoe runs a boarding house for girls – and she regularly gives advice and counsel such as "Giddiness is the 8th Deadly Sin" and "I'll thank you to keep His name out of a conversation about nylons, thank you very much. He might be everywhere, but He's not in Bartocci's on sale day.
Eilis' homesickness takes its toll, she can see no future for herself working in Bartocci's so she takes a bookkeeping course and gets involved in the Irish community. She helps out in the Church's Christmas party attended by the elderly Irish men who, as Father Flood explains, built the bridges, tunnels and highways of New York when they came from Ireland. There is a spine-tingling moment when one of the parishioners sings for the community in his native Gaelic.
Ms Kehoe, suggest she takes a "new kid on the block" to the local Saturday night dance and there she meets Tony (Emory Cohen), a pleasant and polite local Italian plumber who is enchanted by her. Their time together provides a wonderful comparison to today's courtship vs. that of the 1950s. The holding hands, the opening doors, the pecks on the cheeks – it WAS the 1950s. There is a funny scene at the boarding house when the girls teach her how to eat spaghetti properly, prior to meeting Tony's family.
Some big news comes and she has to go home to Ireland. Tony proposes to her, believing this is the only way she'll come back to him. They secretly marry in a civil ceremony. This was slightly unbelievable: a good Irish Catholic girl wouldn't marry "out of the church" !
On her return to Ireland she easily falls back into the life of the small town, and meets a local well-to-do guy, Jim Farrell, when she agrees to double-date with her best friend. A strong relationship develops with Jim and the pull to stay or go is very difficult for her to manage.
This is that rare movie that doesn't get trapped in emotional clichés and manages to stay understated and unassuming, even though somewhat predictable. This movie is beautifully paced, looks striking and the cinematography is stunning – especially the scenes in Ireland.
ROKS FLICKS RATINGS: 4 ½   glasses of bubbly
Comments