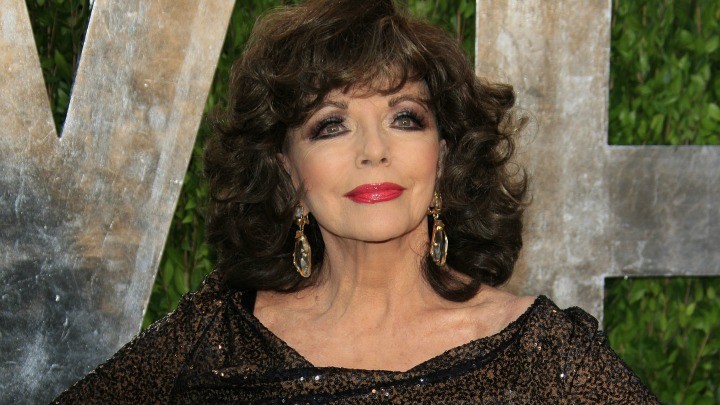 "My darling grandbabies, Now that I'm no longer with you, I'd like to leave you a few choice pieces of advice."
So begins the letter Joan Collins has penned for her grandchildren, Miel, 17, Ava, 11, and Weston, 12. But before you start to worry, rest assured that the 82-year-old actress is just fine.
The letter was written for an article in The Sun newspaper, in response to news Billy Connolly was writing letters to his grandchildren, for them to read after he was gone.
The newspaper asked several venerable British celebrities to write letters of advice to their grandkids. Here is Joan Collins' letter in full:
My darling grandbabies, 
Now that I'm no longer with you, I'd like to leave you a few choice pieces of advice.
These are credos that I have lived by all my life and they have certainly worked for me.
Always be true to yourself. Don't try to be someone else. You are an original and there is no one else in the world like you. Treasure that.
Never text, email, tweet or talk on the phone when you're walking in the street. Firstly, it's dangerous to you and others, and secondly you'll miss all the interesting things around you.
Learn about finance, tax and money — they don't teach you that at school. Spend half of what you can afford and never ever get into debt.
Have a career, however humble, and work hard up the ladder. If you decide to go into entertainment, don't just strive to be a "star" — be an actor, musician, or model first and if you achieve stardom (chances: one in a million) know it is fleeting so gather the rosebuds while ye may.
You will never be more good-looking or younger than you are today, so appreciate your youth and capitalise on it. Don't waste it on drugs, drink and video games — you can do that when you're old and ugly.
Finally: Call your mother — she worries!
With all my love, your doting Dodo.
What do you think of Joan Collin's advice to her 'grandbabies'? What advice so you have for your grandchildren and what would you write in a letter to them? 
Comments