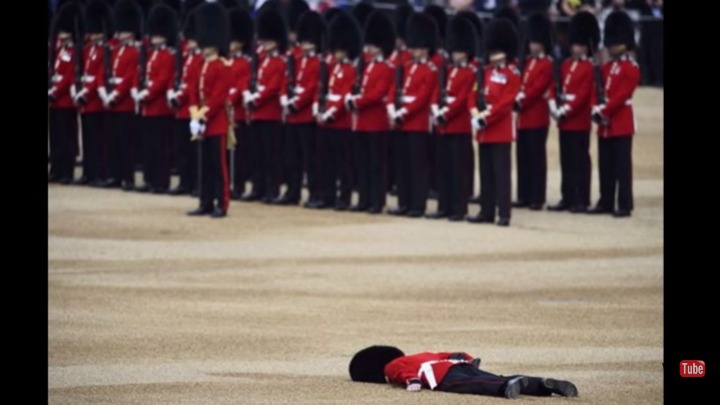 When the Queen, Prince Philip, Kate Middleton and the rest of the royal family members were watching the Trooping the Colour ceremony, they probably didn't expect that this would happen.
A Guardsman fainted and fell flat on his face during the event at the Horse Guards in Whitehall, London, while the Queen and the Royal Family watched him immediately rescued.
As soon as the Guardsman fell on the ground, a comrade rushed over to help him with her hands to her head, probably panicking that this whole thing was happening in front of the Queen!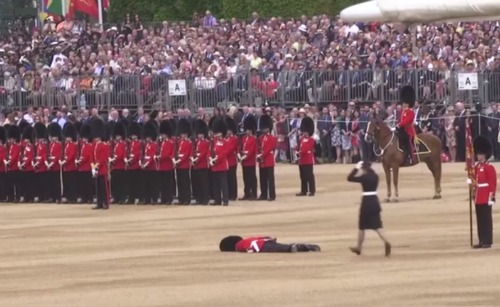 Others then gathered around to lift the unfortunate soldier onto a stretcher before taking him off, reports Mirror.
His colleagues stood unflinching, in perfect formation, despite the surprising turn of events.
Many people say that a usual reason that a guardsman  collapses is a combination of the temperature and the heavy uniform plus bearskin hats the soldiers have to wear.
Kate Middleton, Princes Harry and William and other royals joined the procession riding from Buckingham Palace, down the Mall and to the Horse Guards.
The royal Guards which were also joined by other soldiers including pensioners were there to celebrate the Queen's birthday with the Trooping the Colour – a traditional ceremony within the military.
Just before that, the Coldstream Guards band played a special version 'Happy Birthday' for the Queen.
Watch the moment the guardsman take a tumble…
But this was not the first time.
In 1970, a soldier passed out onto the ground whilst Queen Elizabeth II riding a horse goes by during the trooping the colour parade held in June, 1970 in London, England.
Are you surprised that this happened?
Comments