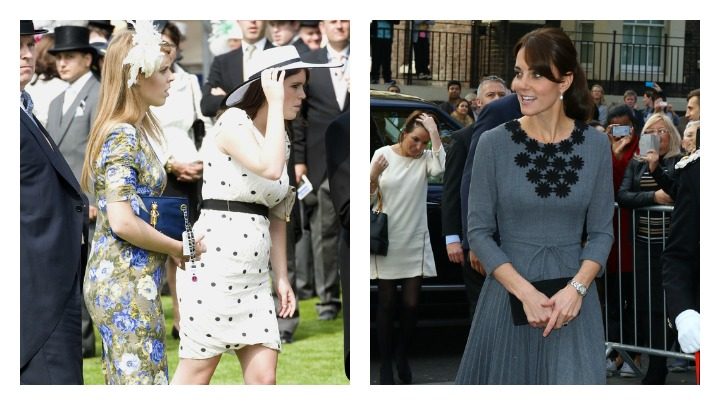 A photo of the Duchess of Cambridge and Princesses Beatrice and Eugenie has sparked a war of words around the world as people argue over whether or not the threesome get along.
Multiple media outlets are reporting that there is bad blood between them and that they can't stand each other.
They say the bitter feud stems from years of rivalry and from Beatrice and Eugenie feeling like they have been forgotten by the rest of the royal family.
However, the argument seems to be based on a single photo of all three women taken at the Buckingham Palace garden party this week.
The photo shows Kate walking ahead of Beatrice and Eugenie, who some have said are looking enviously at her from behind.
While some people have jumped onto the theory, others have called it total hogswash and say it is just another example of people trying to pit women against each other and create a story out of nothing.
"First photo looks like the stepsisters just after they've found the glass slipper doesn't fit," said one commenter after seeing the picture.
Others jumped to their defence though.
"From this angle, you can't know who she was looking at. It could have been someone 50 feet away. Stop picking on these girls, they don't deserve this," said another.
Many have pointed out that it can't be easy being a part of the royal family and having your every move watched by millions of people around the world – especially when the it can be taken out of context and used to create a false story.
Some media outlets have reported that Beatrice and Eugenie are jealous of Kate and that no matter how hard they try they will never be able to compare to her.
However, since there are plenty of photos of the three royals together laughing and enjoying each others company there are doubts a single word of it is true.
What are your thoughts? Do you think the royals get picked on by media outlets? Are you a fan of the royals?
Comments