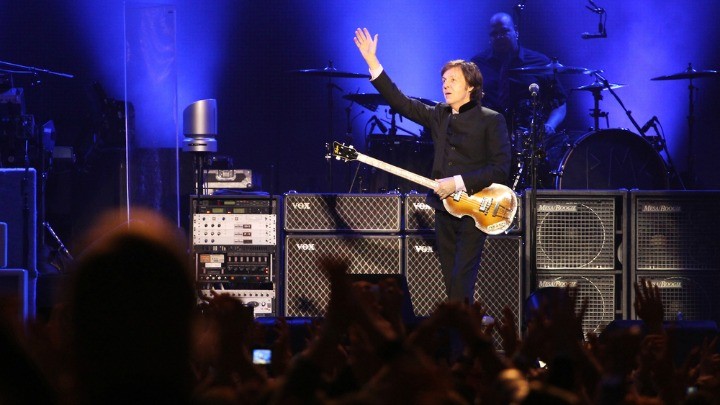 Sir Paul McCartney has put on an amazing show on the first night of his new tour, thrilling audience with an amazing rendition of The Beatles' classic 'A Hard Day's Night'.
It's the first time he has ever played the song solo and the first time he's played it at all in 51 years.
They last time the singer belted out the words to the song was in concert with The Beatles when they played in the Cow Palace in California on August 31st, 1965.
And while he might be a few years older now, his voice is still just as good as it rang out across the theatre without missing a single note.
Paul had previously promised fans his One On One Tour would offer "no shortage of surprises," and he was true to his word, pulling out a number of Beatles and solo hits.
He performed a 38-song marathon, which included favourites such as 'Love Me Do' of his solo career along with the Quarryman song In Spite of All the Danger (unplayed since 2005), 'The Fool on the Hill' (unplayed since 2003), 'You Won't See Me' (unplayed since 2004) and FourFiveSeconds, his 2015 collaboration with modern pop starsKanye West and Rihanna.
The crowd was captured on video on their feet singing and clapping along with every word.
In addition to those rarities, he also played 'Band on the Run,' 'Blackbird,' 'Back in the U.S.S.R.,' 'Live and Let Die,' 'Hey Jude' and 'Yesterday.' He also played three tracks ('New,' 'Queenie Eye' and 'Save Us') from his 2013 solo album New.
He finished off the show with a super medley of 'Golden Slumbers/Carry That Weight/The End' from Abbey Road.
Take a look at the footage one fan managed to take of 'A Hard Day's Night'.
Are you a fan of Paul McCartney? Who was your favourite Beatle?
Comments