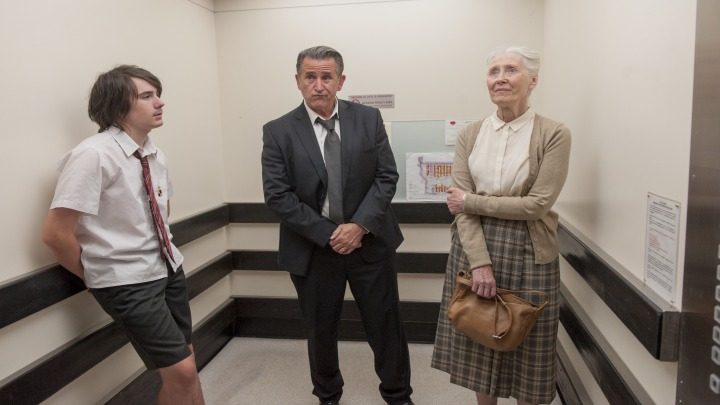 Frank Mollard (Anthony LaPaglia) is a middle-aged Adelaide real estate agent and a depressingly sad man who can't seem to move on after his recent amicable divorce from successful TV medical "soapie" actress Wendy (Justine Clarke).
He is also struggling with how to co-parent his teenage son, Frank Jr. (Indiana Crowther), and to top it all off he hasn't got over the death of his estranged mother 18 months earlier – there's a lot of misery in his life. Frank's a guy from the generation of men who suppress and disregard their emotions.
Professionally, he can barely hide his discontent with continually hosting open houses, attending auctions, and dealing with difficult customers.
His boss Phillip (John Clarke) is constantly describing Frank as being "in a mood", but is also keenly aware that he is miserable. We see the nursing home where Phillip sits beside his demented father who's back fighting a war in the jungle. We appreciate now why he keeps Frank on – he understands what he's going through.
One evening Frank receives a phone call from his mother – well, someone's mother, considering Frank's is dead!
Retired, ageing ex-librarian Sarah (Julia Blake) is unaware that she's dialled a wrong number while trying to reach her own son Damien (Donal Forde) but Frank is only too keen to hear from anyone even if mum is back from the grave!
So, instead of explaining the misunderstanding, Frank engages her in conversation. Once Sarah realises that Frank isn't Damien the two agree to meet and they form a friendship. A Sunday lunch eventuates, with Damien not too happy about the developing relationship, because Sarah has a better connection with Frank than she does with him.
Through this friendly association, Frank begins to regain his self-confidence whilst Sarah's health begins to deteriorate.
There are some funny lines – everybody, everywhere wants to know "how much is this place worth" once they realise Frank is a real estate agent.
An early scene has Frank telling Phillip that he received a phone call the night before from his mother. "Didn't she die last year", asks Phillip, knowing full well that she did. "It was a wrong number, but she sounded nice", says Frank. Phillip pretends to take a call, then hands the phone to Frank: "It's Freud".
Unfortunately A Month of Sundays has been lumbered with an uneventful, slow-moving storyline that relies primarily on the performances to keep things interesting. But the performances are brilliant! John Clarke is the usual dry John Clarke from ABC's Clarke & Dawes, and if LaPaglia was meant to portray an unhappy, despondent middle-aged man, he succeeds brilliantly.
However I thought Justine Clarke looked and performed as though she'd just stepped off the set of Play School.
It is very slow paced and I found LaPaglia's diction difficult to understand at times, but maybe that was meant to be his character's demeanor – someone just going through life on autopilot.
It didn't hold together enough for me – and I'm in the character age group, but it is beautifully shot and has wonderful scenes of the streets of Adelaide.
ROKS RATINGS: 2 glasses of bubbly
Comments