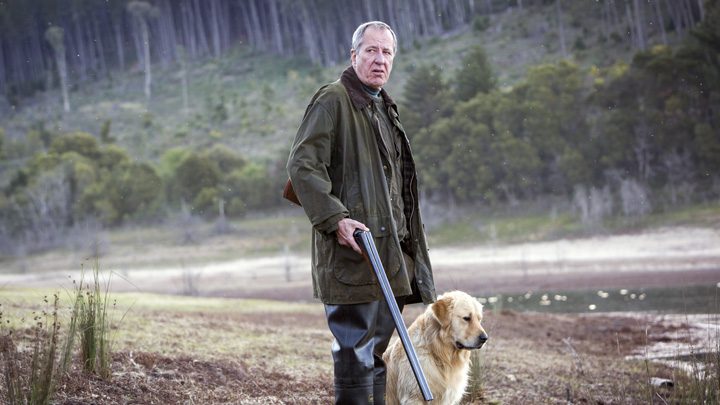 There have been some wonderful Aussie films screened recently – Mad Max: Fury Road, The Dressmaker, Holding the Man, Looking for Grace – and The Daughter is up there with the best of them. The cast of the film is outstanding. Geoffrey Rush, Miranda Otto and Sam Neill give expertly crafted performances in this beautifully moving Australian film.
The Daughter is a disarming drama with a brooding atmosphere and the constant premonition that "something bad is going to happen". The broken remains of the crumbling industrial town and a duck shot at the beginning (but not killed) are used as symbols to induce an emotional chaos that has dire consequences. The Daughter has lots of "secrets and lies" – the wardrobes are bursting with skeletons.
Moody, wealthy magnate Henry Neilson (Geoffrey Rush) has just announced to the neglected timber-town that due to dwindling orders, he is closing down his logging business that his family has owned for over 100 years.
The soon-to-be-unemployed locals learn that he is planning a slap-up wedding in the grounds of his sumptuous property to his all-too-beautiful, all-too-young housekeeper Anna (Anna Torv).
Henry's long estranged and damaged son Christian (Paul Schneider) arrives from a self-imposed exile in the USA to be "best man" (unfortunate choice of word in this scenario) to his father, but more uneasiness and unpleasantness develops. Christian's mother suicided after one of his father's affairs with a previous housekeeper. Christian's own marriage is disintegrating and he's struggling to stay sober – not a pretty picture.
Among the offloaded workforce is Oliver Finch (Ewen Leslie), an optimistic, high-spirited but vulnerable family man whose ray of sunshine is his lively teenage daughter Hedvig (Odessa Young, recently debuted in Looking for Grace) and his wife Charlotte (Miranda Otto). They are a happy middle-class family living with Oliver's dad Walter (Sam Neil), a soft, placid man who's losing his memory. Hedvig's idyllic non-school days are spent exploring a new-found sexuality and shooting cans with her boyfriend using her grandfather's shotgun – this becomes a catalyst in forthcoming events.
The family lives on the secluded acreage after a financial arrangement between he and Henry, where Walter took the fall and went to jail after some suspect dealings that also involved Henry. Hedvig and Walter care for a menagerie of injured animals on the isolated property.
A chance encounter in the local supermarket reconnects Oliver and his old Uni buddy Christian. Despite Oliver having freshly been made redundant by the mill closure, the pair falls back into a comfortable friendship. They are like two peas in a pod, like the good old days before the family tragedy.
Many films try to do too much and rarely manage to bring all the themes together convincingly. This one does. The script is a masterpiece.
The Daughter has enough unexpected laughs and heart-warming moments to completely endear the characters to us. …. It's not all misery!
This film is gorgeously shot in the Snowy Mountain area of NSW and if you enjoyed two previous Aussie films 'Jindabyne' and 'Lantana', well, this one's for you
ROKS RATINGS: a whole bottle of bubbly – my first ever!
Comments