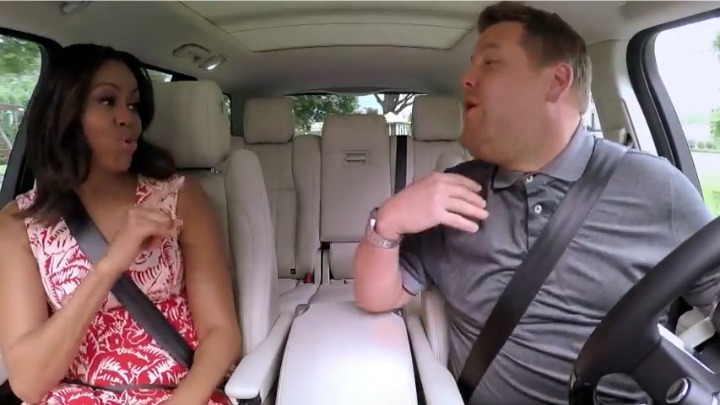 Michelle Obama is making sure she has an absolute blast during her last days in the White House and she's bringing the world along for the ride!
Over the past few months she has danced on stage at numerous events and joined Oprah for a candid chat about her husband Barack where she revealed she still thinks he's the sexiest man she's ever met.
Now, Michelle has paired up with British comedian James Corden for a 'carpool karaoke' special where they belt out classic tunes by Stevie Wonder and Beyonce as well as a more modern number by female rapper Missy Elliot.
Carpool karaoke is a regular segment on James' TV show 'The Late Late Show' where he is joined by celebrities for a drive around town where they sing songs and chat about whatever takes their fancy.
The segments are hugely popular, but Michelle's might just be the best yet!
In between the dance moves and the singing Michelle chats to James about her time as First Lady and what she'll miss when she leaves the White House for the last time.
Michelle said it was only the second time she'd been in the passenger seat of a car singing along with the music in the past seven years.
Official protocol means she has to sit in the back seat at all times and be driven by an offical driver or secret service agent. The last time she was a passenger was when her eldest daughter Malia learned to drive a few months ago.
She said it's the little things like this she's most looking forward to doing when her and Barack leave the White House.
Earlier this year she told Oprah she couldn't wait to go to target!
"I want to go to Target, again!" she exclaimed.
"I've heard so many things have changed!
"I tell my friends they will have to give me re-entry training. What do you do now at [chemist] CVS, how do you check out? I've been living in a cave."
Take a look at Michelle and James's car ride and tell us what you think! Are you a fan of the Obamas?
What do you think of Michelle's singing skills? Do you sing out loud in the car?
Comments