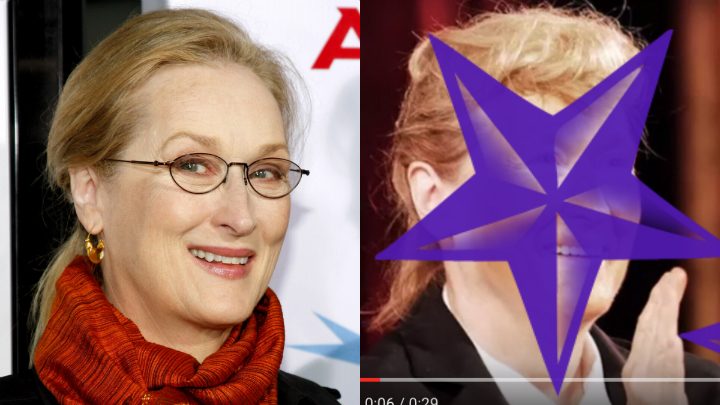 Meryl Streep has done it again! While Hillary Clinton was close to clinching the Democratic nomination for president, Meryl Streep was on a stage in New York, impersonating Donald Trump and boy, was it was impressive.
Meryl Streep dressed up like Donald Trump tonight and Christine Baranski loved it. Sometimes the world is perfect. pic.twitter.com/NLg9FSUYiK

— Jack Moore (@JackPMoore) June 7, 2016
Streep got on stage with orange makeup on her face to match that of Trump's "tan" and pompadoured hair. But the three-time Oscar winner did a more than just dress up like the Republican nominee, she even had the pursed lips and low-hanging belly, reminding us why she's an award wining star. And let's not forget the braggadocio-inflected voice which she didn't forget to do, even while singing.
"We could do a deal – you'll let me know – why it is all the women say no?" she sang, stretching out her arms like Trump would do, reports SMH.
Meryl Streep as Donald Trump because she can play anything. pic.twitter.com/oGNzJdIm3X

— Marlow Stern (@MarlowNYC) June 7, 2016
Meryl sang a duet traditionally for men, offering advice for picking up women with some lyrics altered: "If she says your behaviour is heinous, kick her right in the Coriolanus!" Even Bette Midler who was in the crowd, loved it.
No one new about her surprise performance, not even the event organisers, who knew only that Streep has been wanting to take on Mr Trump.
After the show, the Public's artistic director Oskar Eustis said, "Utterly her idea, beginning to end."
"There were skeptics, there were doubters, but one of those skeptics was not Meryl Streep. She was absolutely sure she could do it. None of us had seen her in costume or makeup, till she walked out tonight.
"She's willing to try anything, and have fun with what she tries," said Mr Eustis of Streep. "She's just fearless."
Just how dedicated was Streep with her Trump act? She even skipped the dinner before the show to get into character.
Watch the video here…
What do you think of Meryl Streep's impersonation of Donald Trump?
Comments