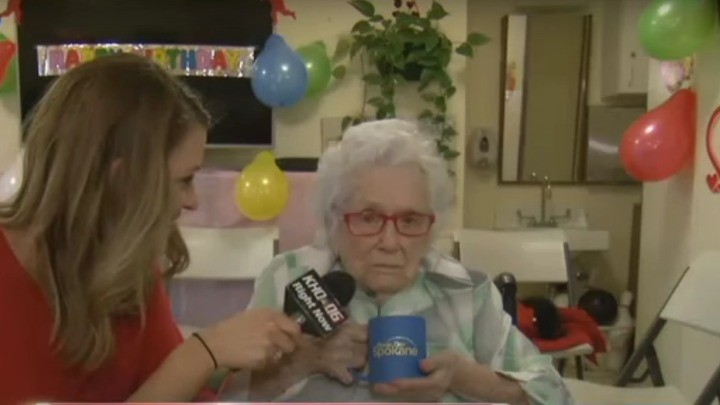 Is this the most honest, no-nonsense grandma around?
Flossie Dickey has been dubbed the 'coolest woman on the planet' following an interview with U.S. show, Good Day Spokane.
Flossie was interviewed by anchor Nichole Miscke on her 110th year birthday, a huge milestone, but she seemed less than impressed with the attention.
Throughout the clip the interviewer tries to question Flossie on how she is feeling but Flossie isn't interested.
Instead the 110-year-old woman sat, sipping her coffee and staring down the camera.
Miscke revealed that Dickey has three children, 12 grandchildren and 20 great-grandchildren! And when asked what the key to living for 110 years is she responded, "I don't know, I don't fight it, I live it."
Dickey's caregiver, Kris Barh joins the interviewer and goes on to say that, according to her family, Dickey's favourite thing is, "to sit down and have some whiskey, straight up."
Watch the video below to see the full interview…
What would you do for your 110th birthday?
Comments