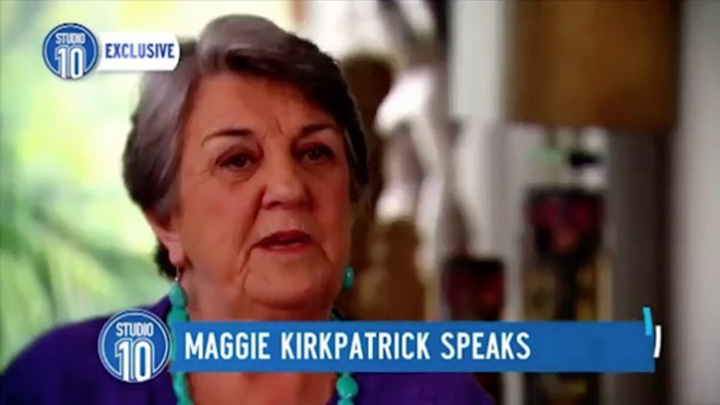 It was heavily reported in Australian media and a contentious topic among our readers, but now Maggie Kirkpatrick has given her side of the story following the child sex charges and consequent appeal that saw her cleared on all counts.
In an exclusive interview with Studio 10, the actor discussed her feelings about the accusations and how she and her family have dealt with it since the news broke.
In August Kirkpatrick was found guilty of two charges of indecent assault and one charge of committing an act of gross indecency with a child under 16 in 1984, but appealed the court's decision successfully.
Kirkpatrick told Craig Bennett, "I deny nothing about my visits to her [her accuser], and to inviting her to my home, which is something that would never occur today".
"There would be no way that a publicist from a network would allow a fan to be alone with one of their stars. But those were different times, different climes. And I was used to visiting people. I was used to answering requests to visit people, sick people in hospitals, people in their homes and this seemed to be no different".
When pressed on what happened on the day that the allegations supposedly occurred, Maggie refused to speak about it. She said she never wanted to speak of the day of the incident or the girl who accused her ever again.
Despite feeling as "if the bottom of my world had fallen out" when she heard the allegations, Kirkpatrick told Bennett that giving evidence in court was no scary as she didn't have an skeletons in her closet.
She said she gained her impressive strength from her family, saying "Never once did they doubt me and they, they kept me strong".
"I don't know what I'd do without them. I really had to latch on to that, that these people believe in me so surely, surely the justice system will".
"My grand-daughter said she had never seen me quite so vulnerable. And I guess I've never really been considered a very vulnerable person", she said.
The 74-year-old criticised the media for speculating that Maggie had become the cruel Joan Ferguson off Prisoner. "I've never experienced such pain and cruelty as was foisted upon me by the mass media at that time," she said.
"I felt sick. I felt sick and I felt betrayed and I felt that these people have the temerity to judge me, they don't know me, they didn't know the full facts and they chose to vilify me like that.
"The constant images were of the most brutal moments taken out of episodes. Of the black leather gloves, of the body searches, of the bashing of the… You know, the look that I had. But that wasn't Maggie Kirkpatrick", she said.
But the veteran actress reiterated that she held no ill feelings and was not interested in revenge. She simply wants to move on.
Tell us, where do you stand on the issue? Do you believe Maggie Kirkpatrick was innocent of these charges? Has your opinion of her changed?
Comments