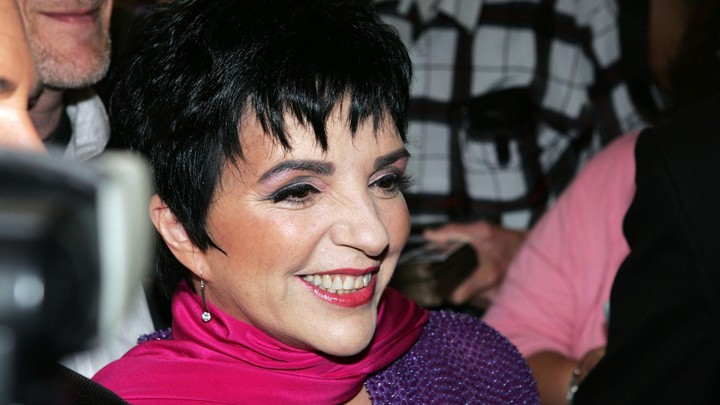 She's one of the most fabulous actresses of our time, and Liza Minnelli has just celebrated her 70th birthday.
The celebrated singer, rang in another year with a big celebrity-filled bash at cabaret bar Feinstein's/54 Below in Manhattan.
In an exclusive interview with Daily Mail Online, the star's confidante Corte Alexander says Minnelli would much rather be tucked up on the sofa at home, eating fast food and watching cable TV.
He said, "If you asked her what she really wanted to do on her birthday, she'd want to stay at home with the remote, order some Kentucky Fried Chicken and watch TCM [Turner Classic Movies, the nostalgia movie channel].
"She doesn't wake up every morning and put on a glamorous dress and do her make-up. She puts on a black t-shirt and a pair of jogging pants and sneakers and wanders into Ralphs.
"The part of her personality I wish everybody could see more of is when she has no make-up on and we go to the movies at the Galleria together and eat a big bucket of popcorn and goof around.
Alexander revealed more about Liza's amazing personality: "She sings all the time. If we're in the car we're screaming in the car to Sinatra, like the way they are in Wayne's World with Bohemian Rhapsody, that's how we are in the car" he said.
He said the actress's latest stint in rehab, was nothing to worry about.
"I wasn't surprised by her going to rehab, and I'm not saying that because I thought she needed it.
"I've been around long enough to see how things like that are like touch ups. If self-preservation is your priority you have to do what you need to do – and if that's periodical check ups, then it's a smart thing to do.
"She's been through some hard times, but you roll with it and you be as good a friend as you can during those times.
"Her sobriety is a private thing. I just try to be there when she needs me", he said.
In speaking about Liza's well-publicised love life, Alexander said, "When it comes to romance never say never with Liza – you never know what each day will bring.
"An ideal guy who would be suited to her would have to be secure in himself. Well, the first thing he'd have to do is to be straight [Liza's first husband, singer Peter Allen, was gay], then he'd have to be really funny, he's got to love music and it would help if he were a snappy dresser".
The confidante of the huge Hollywood star said the death of Liza's mother, Judy Garland, at just 47 years old was horrible for her but, "I think in some ways she would probably be no different to any child who loses a parent at that age.
"But yes there are certain things that will always remind you. She'll be watching the TV and suddenly a movie comes on or a song comes on the radio, it keeps you from being able to get over it, but at the same time it's also a poignant reminder".
What an insight!
Tell us, do you love Liza Minnelli?
Comments