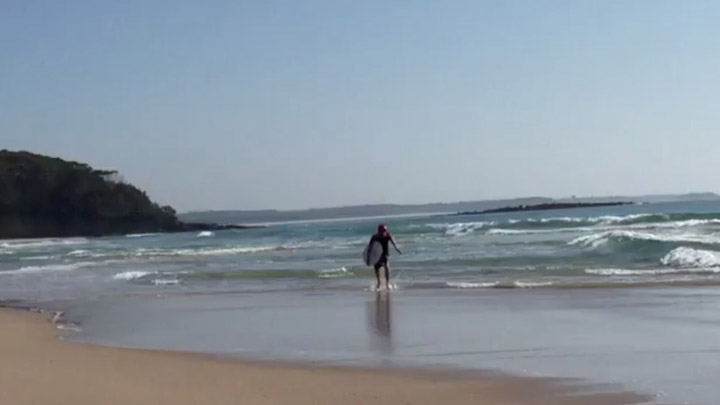 Do you love staying active in your 60s? So does father Ron Aggs – in fact he's taken it to the extremes.
The Ulladulla Times journalist has taken his love of skimboarding to another level not many of us have ever seen before – he is attempting to get an Australian record for the longest distance headstand on a skimboard.
Ron practices at local his beaches when the tide is just right and says skimming upright is pretty easy, but enjoys the added thrill of the headstand manoeuvre.
"With just a couple of steps and good timing you can glide five metres or so, then build up to sprint speed gradually as you get more confident," he said.
"The thrill is the acrobatics and the accelerated speed after sprinting.
"Seeing the sand a few inches away and the spray from the wake spreading out from the board upside down and back to front is exhilarating."
He is due to submit his record attempt to the Australian Book of Records run by John and Helen Taylor later this month.
"Ron's is a great story, very inspiring for anyone to think about, staying fit and and healthy and taking care of yourself no matter what your age," Mr Taylor said told the Milton Ulladulla Times.
The Australian Book of Records has agreed to the assessment methods to create the record, and need two independent witnesses to measure the distance.
Ron learnt to ride skimboards as a teenager and now uses it for cardiovascular and muscle fitness, as well as to stay mentally capable for as long as possible to communicate and raise his 13-year-old twins Angela and Elliott.
Take a look at a video of his amazing ability and tell us, are you supporting Ron's world record attempt? We reckon he's awesome!
Check out our Times journo Ron Aggs on his skimboard! He is going to create an Australian record next year! pic.twitter.com/J6lNajBXDM

— MiltonUlladullaTimes (@MUTimes) December 9, 2015
Comments