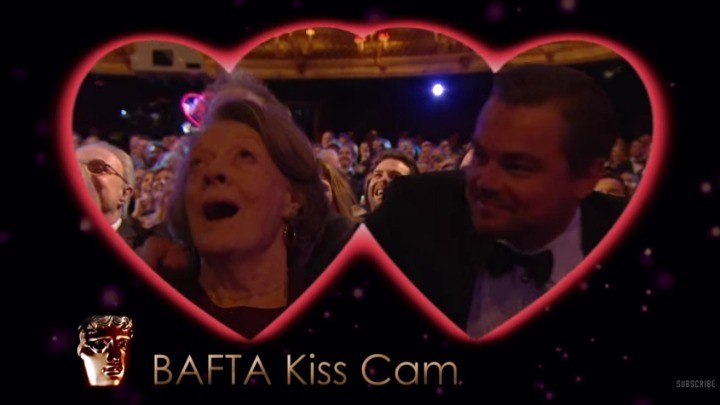 He's known as a hollywood heartthrob, while she's one of our most revered actresses and on Sunday night Leonardo DiCaprio and Maggie Smith joined forces – and lips – and embraced the Valentine's spirit at the BAFTA awards in London.
The award show was hosted by comedian and actor Stephen Fry who set up a 'kiss camera' to sweep across the crowd and pick out celebrity couples to smooch – much to the amusement of the rest of the star-studded guests.
When the camera panned to Leo and Maggie, the Titanic actor didn't hesitate in jumping out of his seat to reach over and give Maggie and big kiss on the cheek. She responded with laughter and then, appearing to forget about the camera all together, turned around in her seat to have a good ol' chat with Leo while the show continued around them.
Maggie was nominated for a BAFTA award for Best Leading Actress for her film The Lady in the Van – a film based on a true story about a woman who lived in her van in London for 15 years.
She recently finished working on her hit series Downton Abbey, where she won high praise for her portrayal of the family matriarch Violet Crawley. Fans were sad to learn late last year that the current season of Downton Abbey will be the show's last. It has garnered millions of followers around the world with many growing to love Maggie's strict yet endearing character.
Take a look at Leo and Maggie's kiss below.
Are you a fan of Maggie Smith and Leonardo DiCaprio? What is your favourite movie and TV show from the actors?
Comments