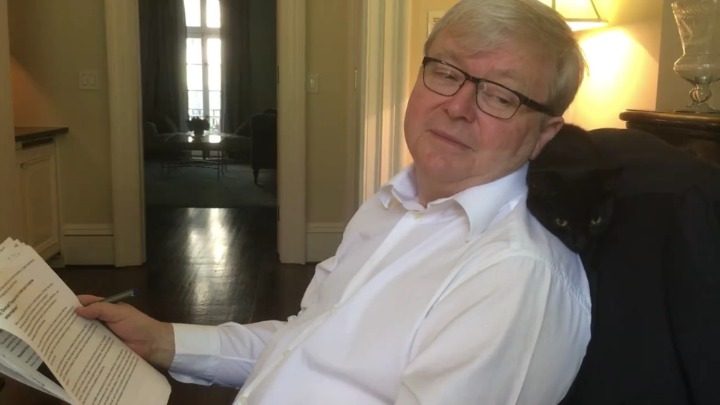 Kevin Rudd has granted us all a sneak peak into his life with his new cat Mei Mei – and people are loving it.
The former prime minister adopted his cat Mei Mei a few weeks ago, along with her sister Qing Qing, from an animal shelter in New York where he is living.
It looks like Mei Mei is settling in just fine, with Kevin sharing a video of a himself talking to the black feline last night.
Relaxing on a chair in his New York apartment, Kevin is seen trying to read a paper while his new kitty displays some very cat-like behaviour – basically not caring about anyone's comfort but her own.
"Pussycat, this is really not comfy," he says to the Mei Mei, who is curled up behind Kevin's head on the armchair.
"I'm trying to read an article.
"Do you intend to move? Even a little bit?" he continues as he turns toward his new pet again.
"Doesn't look like it," he concedes. "Oh well," he says and sighs. "We'll read together shall we?"
The video has already received thousands of comments and views with some people saying they love it and others saying it's a little bit "weird and creepy".
"My husband and I totally cracked up and sympathised…we have cats and yup…..this is life with them. Love it," said one fan.
While another accused him of just trying to "stay relevant".
"It's obvious that he got someone to film this for him. What a setup! Way to try to stay relevant," quipped one skeptic.
What do you think about the video?
Can you relate to cat behaviour like this? Or is Kevin Rudd just trying to 'stay relevant'?
Comments