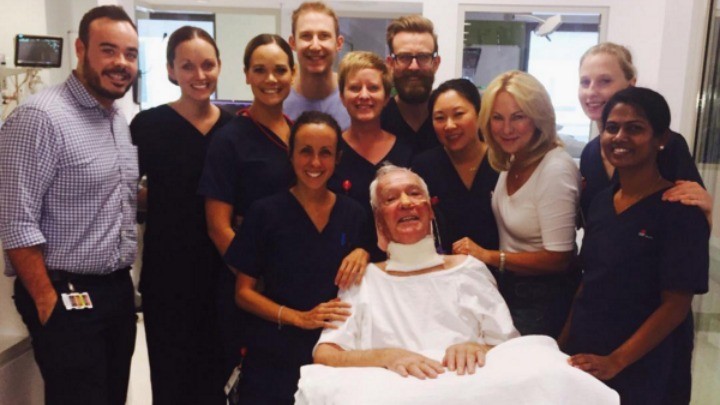 After weeks of treatment in the intensive care unit at the Royal North Shore Hospital, John Kennerley has finally moved on to the next phase of his recovery with doctors signing off on his transfer to the spinal unit.
Kerri-Anne shared a photo of herself and her 75-year-old husband posing with the medical who have taken care of him for the past six weeks.
John has been in intensive care since being rushed to hospital after falling and severely injuring his neck at the Bonville Golf Resort in Coffs Harbour.
Kerri-Anne shared the photo on Instagram saying, "After 6 and a half weeks in Intensive Care John is moving to the spinal unit".
She took the time to thank all of the doctors, nurses and hospital staff who looked after John while he was there.
"Just a few of the brilliant nurses and doctors who looked after him 24 hours a day. Thank you to these wonderful professionals."
Earlier she posted a photo of the couple's dog Digger visiting John in the hospital.
"Today was the first time Digger recognised John and made us all happy. So true, pets are therapy," she said.
Kerri-Anne has been unwavering in her support of John over the past weeks, spending most of her days and nights at his bedside in support.
It is not yet known how long it will take for John to fully recover.
It has been a scary few weeks for the couple with doctors constantly monitoring John's progress and taking the recovery process one day at a time.
Are you happy to hear John's condition is improving? Do you have a message of support for the couple?
Comments