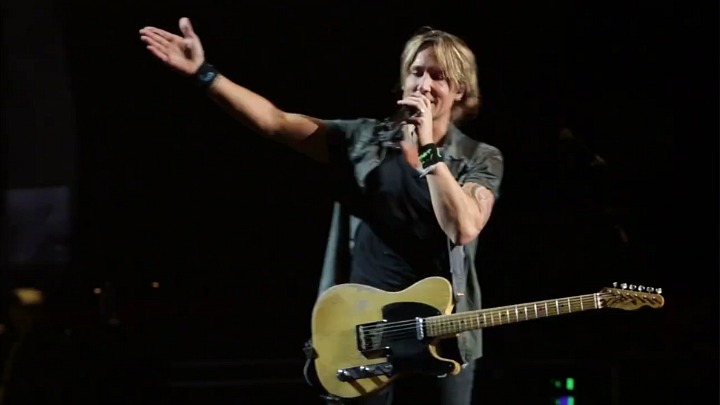 Despite being on the other side of the world from his wife, Keith Urban couldn't wait to celebrate his 10-year anniversary with Nicole Kidman, telling the crowd at his sold out concert the intimate story about how they met and fell in love.
Keith was performing in Boston, America when he decided to take a break from playing and share his very personal tale about the love of his life.
Nicole is currently in Australia filming a new TV show, meaning the couple couldn't be together on their special day.
"We booked the tour at the beginning of the year and June 25th was going to happen in Boston," he told the thousands of screaming fans.
"So I said to Nic, 'I can't work on our anniversary so maybe we'll play Boston another time'.
"And she said, 'what if I come up to Boston? You'll play that night, it will be fun and the next day we'll just hang out in Boston and have a great time'. That was the plan."
The crowd erupted with applause and screams, not doubt hoping Nicole was going to make a surprise appearance on stage.
"She was scheduled to shoot a [TV show] in Australia that was going to happen last month. So everything was looking really good.
"Then suddenly they said 'we are actually going to have to shoot in June instead', which threw everything out."
The crowd can be heard booing in disappointment to show their support for Keith after the bad news, but he had one more surprise up his sleeve.
"So after the gig tonight I am flying to Australia to celebrate our anniversary!" he announced, to rapturous applause and cheers.
He then put a series of beautiful photographs on the big screen, including a very special picture taken of the couple the night they first met.
"It's not often that you get to get a photo with the person that's going to become your partner for the rest of your life on the very first day, in fact within minutes of meeting each other," he said.
"Nic and I got along really well, and the next thing that happened was we got married," he continued, showing their wedding photos on the screen.
Although the couple have been fiercely protective of their children in the past and have kept them out of the media spotlight, he next shared a series of sweet snaps of their two little girls, Sunday and Faith Margaret.
"Next up, these guys came along. The most beautiful gifts, our two daughters, and then there were four of us. But it all started with this girl," he concluded.
Keith then dedicated his next song 'Blue Ain't Your Colour' to Nicole.
Later he shared a special message on his Twitter account thanking his fans and the audience for making the night so special.
We had a great time in Boston! Thank you to everyone who came out on this extra special night! -KU #ripCORDWorldTourhttps://t.co/eLC7NYyaSg

— Keith Urban (@KeithUrban) June 26, 2016
Keith has previously spoken to Oprah Winfrey about how nervous he was when he first Nicole.
"I plucked up the courage to go and do it very nervously and trying to be all cool," he told her.
"There was that moment of waiting for the next thing to be said, at which I didn't know if I was bothering her or what was going on, so I just sort of said, 'well, nice to meet you' and I walked away."
His friends teased him for being so scared though and forced him to go back and try again. Thankfully he did and they hit it off!
Join us in wishing them a very happy anniversary with many more to come!
Are you a fan of Keith Urban and Nicole Kidman? Share your congratulations in the comments.
Comments