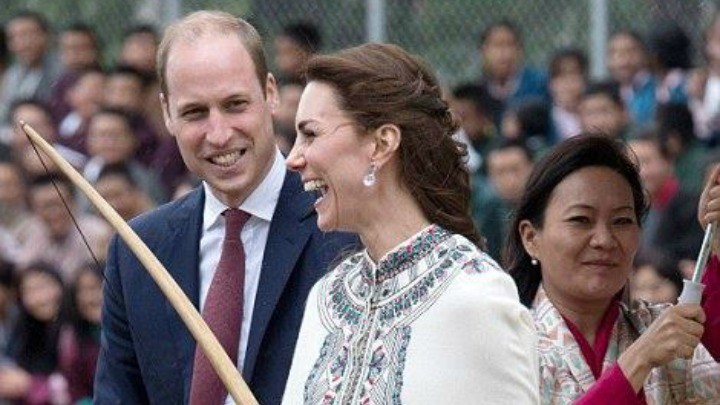 The Duke and Duchess of Cambridge are used to being treated with respect and reverence everywhere they go, but locals in Bhutan proved they weren't afraid to poke fun at the royals with a very cheeky song.
The royal couple are in Bhutan as part of their tour of India and stopped by to take part in an archery contest.
It was there they were greeted by a chant from 'cheerleaders' who sang: "You're bald. You're a baldy. Your nose is really big. We hope your private parts are as big."
Kate's jaw fell wide open when she discovered what they singing, before falling into a fit of laughter.
Both she and Prince William took it in good humour and were said to be very amused by the creative lyrics.
The pair then stepped up to the plate to try their hands at archery.
William was heard saying, "you'll be fine. You should try to shoot up in the air," to reassure Kate as she took the bow and arrow.
Try as she might, she failed to hit the target but brushed it off, laughing and exclaiming "sorry!".
The couple had a go at a number of other traditional games too and had fun chatting the locals.
They only have a few more days left on their tour of India, with many people hoping they will stop in Agra to see the Taj Mahal – where the late Princess Diana took her iconic photograph.
What do you think about the local's song about Prince William? Are you glad to see the young royals embracing their role around the world?
Comments