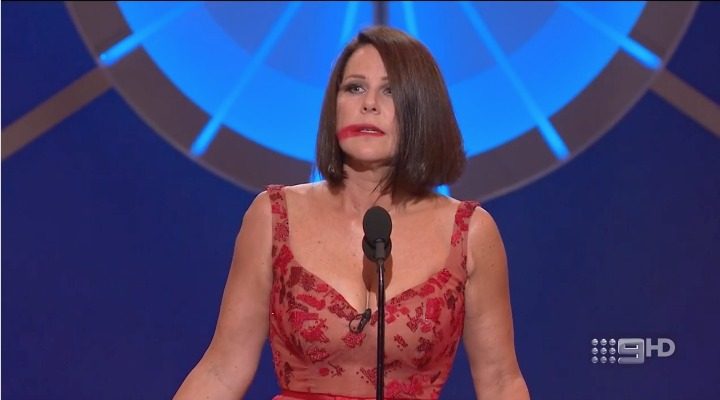 She's known as one of the funniest women on television and last night Julia Morris proved she's not afraid to make fun of herself for a laugh.
Julia had the star-studded audience in stitches as she took to the stage to belt out an epic rendition of 'I Need a Hero'.
Complete with daggy dance moves and a lot of hip shaking, the 'I'm a Celebrity Get Me Out of Here' host had everyone clapping and singing along in what was one of the most lively segments of the night.
Did that just happen? #TVWeekLogies https://t.co/YV9RkgeZMW

— Channel 9 (@Channel9) May 8, 2016
Later, Julia presented the coveted Best Presenter award where she talked about the requirements of a TV host.
"They're charming, their charismatic, they're the stars we welcome into our homes each and every night," she said.
"They also get to wear amazing clothes. Don't we?," she continued.
The House Husbands star went on to add: "Look at this dress. It's a Alin Le' Kal couture.
"Look at it. Want a full spin?" she asked before tripping over her own feet and falling to the ground.
While the audience was initially scared she had seriously hurt herself, they soon realised that it was all part of the act as she climbed to her feet, giving them a clear view of her behind, swearing and grumbling.
She turned around the reveal red lipstick smudged across her cheek before 'gracefully' carry on to finish presenting the award.
Are you a fan of Julia Morris? Do you watch her on 'I'm a Celebrity' or 'House Husbands'?
Comments