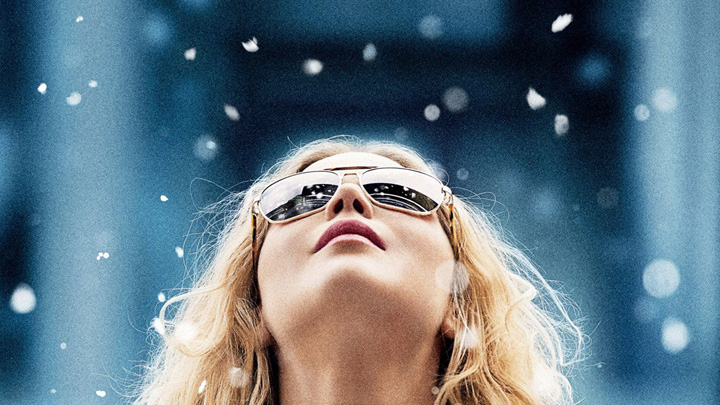 A QUIRKY MIX OF CHARACTERS HELD TOGETHER BY A YOUNG WOMAN PACKING A MEAN GUN, AN ENDEARING SMILE AND A NEVER-GIVE-UP ATTITUDE
From the opening scene of the movie Joy, which is due to open in Australian cinemas on Boxing Day, viewers are taken into the quirky family life of the woman wearing the moniker from the single word title. She shares her house with a troupe of six hangers-on in one form or another … some endearing and others who are quick to abuse her generous nature over and over again. With both her squabbling low-paid muso ex-husband and her homeless father sharing a basement in her twice-mortgaged home – and a roll of toilet paper as their demarcation line – Joy has to juggle struggling to keep food on the table and the bills paid with a mother who lies in bed all day watching Knots Landing and other soapies. Joy's grandmother is the only other adult in the two-storey structure who makes any sense, always believing her granddaughter will rise to greatness. Add two young children into the mix, one who is her mother's champion, and you have a story that will make you both laugh out loud and cringe with frustration or anger, all within minutes of each other.
The title certainly lives up to the character of the woman it portrays – the true story of Joy Mangano, a single mother who experienced hardship, loyal friendships and a broken heart to rise to the top of the business world. Starring the already twice-paired screen duo of Jennifer Lawrence and Bradley Cooper from Silver Linings Playbook and Serena, this time they are good mates rather than having a romantic liaison. Robert De Niro, Isabella Rossellini and Diane Ladd, among many others, join them on the silver screen.
This is a tale that certainly saw the audience leave the theatre feeling both satisfied and frustrated that someone who had endured so much didn't allow a plague of rogue characters to steal her joy or her determination to succeed in what was classified at the time as a 'man's world'.
One endearing moment was during the first sighting of Bradley Cooper on screen. The whole theatre burst into a round of laughter when someone, who was obviously a very smitten fan, cried out with a very loud, "Awww!" I think most of us felt the same way and it was a delightful little interlude during an enjoyable film.
Set around the world of the Home Shopping Network, where all kinds of household goods are peddled on the small screen – usually to late night insomniacs – Joy has to fight corruption in both her immediate family and those who are her business contractors. But this feisty young woman who, during the first thirty minutes or so, allowed everyone to walk all over her, eventually comes out with guns blazing – especially in one scene – to rise to the top of her game over the next four decades.
As a guest of Event Cinemas, a friend and I went along to Chicks at the Flicks tonight at the Myer Centre in Brisbane City. This is a regular event put on by Event Cinemas, where guests are offered a movie ticket, a gift bag and a pre-show cocktail for the very reasonable price of $26. Unfortunately for us, the Myer Centre doesn't have a Gold Class Theatre so the offer of a three course meal in addition to the other goodies wasn't available for those who went along to our showing tonight. In saying that, I feel $40 is a justifiable price for what you would get according to the menu on their website for those theatres that do.
The list of goodies in the gift bag all patrons received was similar to opening a small treasure trove taken from Aladdin's cave. They included the latest editions of Marie Claire and That's Life magazines; a small sample of Fructis shampoo; a Nivea Roll-on Silk Touch deodorant for her with a Nivea Stress Protect spray deodorant for him; a full-sized box of Peckish Cheese-Flavoured Rice Crackers; a can of Diet Coca-Cola; a packet of Rogan Josh Spice Mix to add to a chicken or lamb dish; a block of Decadent Fondant Lindt Chocolate; an elegant envelope containing five Twinings English Breakfast teabags; a tube of Rosehip Gentle Foaming Deep Cleanser and a bottle of Vitamin E Penetrating Oil – quite a mixed bag of good quality items.
For entertainment value, I happily give the movie a 7 out 10. As far as the Chicks at the Flicks deal is concerned, the $26 cost was definitely worth it for the quality of the plush cinema seats and the extras bestowed on all patrons. I am sure those who were able to partake of the $40 deal in the Gold Class Cinemas went away well pleased.
A very big thank you to Event Cinemas and Starts at Sixty for a great night of entertainment.
Tell us, will you be seeing "Joy"?
Comments