Johnny Depp and his wife Amber Heard are no doubt overjoyed after two of the four charges against Amber for illegally bringing their dogs into Australia were dropped.
The pair made headlines last year when it was discovered Amber had brought their two Yorkshire terriers, Pistol and Boo, into the country on a private plane without declaring the animals or filling out the correct paperwork.
Amber was facing two charges of illegal importation of an animal and one count of producing a false document, however the two biosecurity charges were dropped this morning.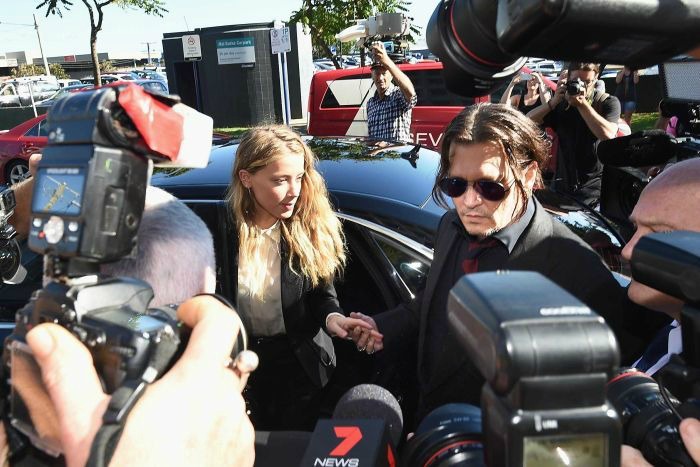 The incident infuriated Agriculture Minister Barnaby Joyce who famously issued a stern-worded tirade against the pair and threatened to euthanise the dogs.
Johnny was here filming the next Pirates of the Caribbean movie when Amber dropped in to visit him with their beloved pups.
Due to Australia's strict quarantine rules, Amber facing a maximum 10 years in prison and a $102,000 fine if convicted.
Johnny had previously spoken about the charges and Barnaby in an interview on a popular US talk show, saying he would "fly to Australia and assault that man (Joyce)" if he or his wife were arrested over the case.
Johnny Depp and Amber Heard arrive at court @abcnews @abcgoldcoast pic.twitter.com/I00EaBaUAo

— Ashleigh Stevenson (@ash_stevenson10) April 17, 2016
Barnaby was not happy when the case first came to light going on national radio to tell Johnny and Amber exactly how he felt about it.
"Mr Depp has to either take his dogs back to California or we'll euthanise them," the MP said during an interview on 3AW Radio.
"That's the deal.
"And if people think that's a bit harsh, well I'll tell you what harsh is. Harsh is if we let down our guard and ultimately rabies gets into the country."
The pair are still in court with the result of the remaining two charges expected to be announced today.
Do you think Johnny Depp and Amber Heard should have faced the consequences for bringing their dogs into the country illegally? Or was this all blown out of proportion?
Comments