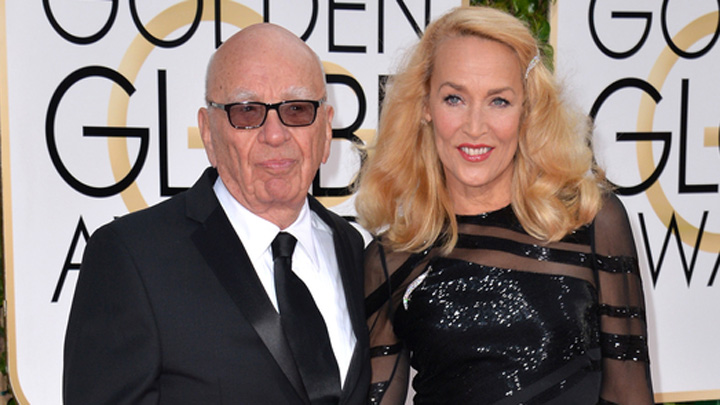 They haven't been able to keep their hands off each other since they married in March this year and now Rupert Murdoch and Jerry Hall have really amped it up in front of the cameras. The two newlyweds were snapped on the red carpet overnight and only had eyes for each other.
It was the premiere for Absolutely Fabulous: The Movie and Jerry looked absolutely stunning in a white fur coat and glittery dress, next to her man Rupert, who was dressed in a blue suit.
They held hands and whispered to each other as they walked down the red carpet for the film which guest stars the former model.
Jerry opted for flat shoes, presumably so she didn't tower over Murdoch – she's 6 foot!
Her daughter with Rolling Stones' frontman Mick Jagger, Georgia May, recently revealed that the amorous displays are not just for the cameras.
The couple's loved-up red carpet appearance comes just a few days after they were given a personal tour of Donald Trump's golf course in Aberdeen, Scotland, by the controversial political candidate himself.
Fellow model Kate Moss stars in the film, amongst other all-star cameos.
Take a look at the photos and tell us, do you think publicly displaying affection like this is OK? Should they get a room?
Ab Fab Movie premiere: Newlyweds Jerry Hall and Rupert Murdoch put on VERY cosy display https://t.co/w1X0Y77uua pic.twitter.com/4tw7htOvyk

— Daily Express (@Daily_Express) June 29, 2016
Comments