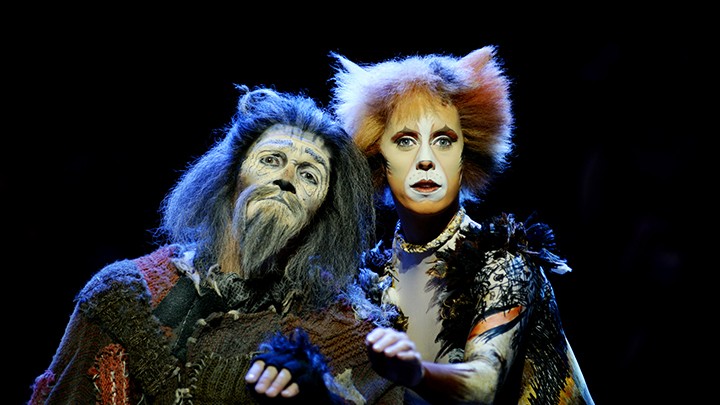 Jellicle Cats come out tonight
Jellicle Cats come one come all
The Jellicle Moon is shining bright
Jellicles come to the Jellicle Ball 
The invitation is issued; we enter the secret world of CATS!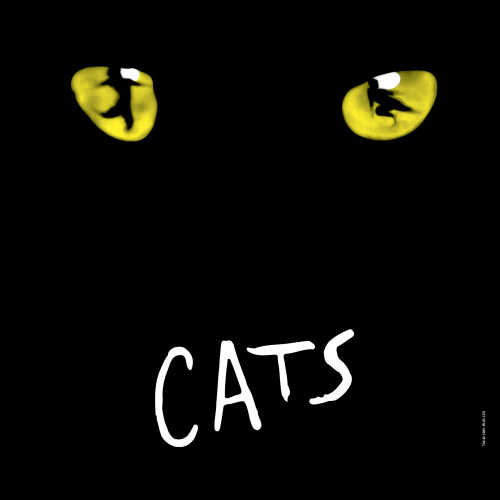 I loved the music from CATS from the time is was released, which, unbelievably is over 30 years ago. I remember spending a cold, snowy afternoon in front of a fire in Mt Victoria (NSW) drinking hot milky coffee, listening to a recording of the latest musical from Andrew Lloyd Webber. The characters of the various cats are beautifully captured in the numerous music genres represented, from Opera to Jazz, even a bit of honky tonk.
But my love for the words went back many years earlier, my Dad read me (and had me recite from) Old Possum's Book of Practical Cats by T S Eliot. Even today I can hear his voice particularly as an evil Macavity and a suave Bustofer Jones.
Recently I went to the Opening Night of CATS at QPAC and it is absolutely wonderful – some areas differ from the original, but these are good changes. The dancing is energetic and the choreography is interesting, imaginative and varied. All cast are so flexible.
Rum Tum Tugger now raps his way through his solo and it is totally brilliant. Gus, the Theatre Cat has always been a favourite of mine and he was a beautifully portrayed, as was Bustofer Jones. Munkustrap is everywhere convincingly supporting everyone, including Old Deuteronomy. Mister Mistoffelees left me exhausted! For this cat lady, The Oriental Cat, in particular, stood out as her movements were so feline and sensual. Seriously I could name everyone because they are all wonderful.
Vocally there is not a weak voice in the whole cast the singing is so good. They could do with some sound checks; in Row S where I was sitting, some of the speakers made a horrible noise with very bad static.
Delta Goodrem did not appear on opening as Grizabella, but her replacement has played the role elsewhere so it wasn't a great disappointment for me, although it was for the Delta fans nearby. I don't think however that at the end of the show there was any resentment for lead replacement – anyone can get ill and the understudy did a great job.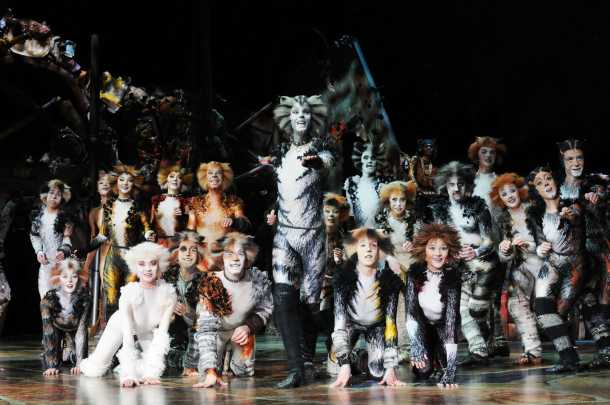 My small quibble is that both Grizabellas are very young to play a role about someone whose great glamour has faded, in fact, who is about to go to "The Heaviside Layer and be reborn into a whole new Jellicle life". Costuming cannot hide the actors' youth and glamour. "Memories" tells a story of lost love, lost opportunities and lost beauty. Grizabella begs the others not to ignore her, to touch her and give her another day of happiness, another day in the sun – it takes life experience to understand her, not just a good voice to sing the words. (I might add that young Grizabellas are not a uniquely Australian casting choice.)
The cast is wonderfully supported by good musicians; lighting and sound, in the main, are excellent and the staging works brilliantly. Musically, CATS has undergone some changes, a higher degree of techno sound and the inclusion of rap – changes I thoroughly enjoyed. – they modernise without destroying. The set supports the cast and doesn't get in their way; SFX at certain points are outstanding and rather breathtaking.
Overall a wonderfully entertaining night and well worth your time and money!
CATS the Musical is currently playing in Brisbane until February 14, with Adelaide and Perth performances to follow. Click here for more information.
Comments