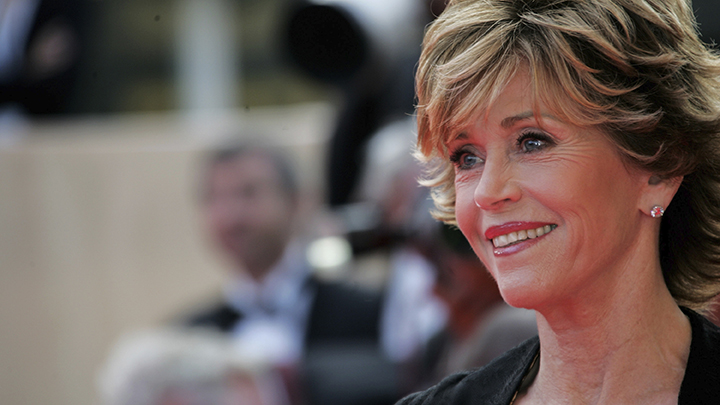 You'd barely know she was 60, let alone 78! Jane Fonda has stepped out in a very covered-up look for a night on the town.
The ageless star was photographer wearing a black and gold kaftan to the 2016 Los Angeles Dinner: What You Do Matters in Beverly Hills on Wednesday.
It was a different look to what we usually see Jane in, but we have to say, we're loving it.
Jane wore the billowy black and gold-embroidered kaftan with black trousers, and paired it with diamond earrings and a new longer bob.
The Grace and Frankie actress attended the event alongside her partner Richard Perry.
The gold-embroidered tunic dress even matched perfectly with Richard's tie.
Jane and Richard supported fellow actress Rosanna Arquette and her husband as they were honoured with the National Leadership Award as a recognition for their efforts to preserve the history of the Holocaust while educating younger generations both in America and globally.
In a recent interview with the Daily Mail, Jane said, 'You could not pay me to be young again. I don't care how much money I was offered, I wouldn't do it. I didn't like being young at all. I actually felt I started to get old at seven. By the time I was 20, I hated how old I was then. At 30, I was ancient, I saw no future for myself.
'At 49, I said, "I'm going down a dark hole, I can't be creative any more," and I quit acting for almost 16 years. I was just so old… Then, after I turned 60, I began to understand who I was, and I became young again. Now I'm in sight of my 80th birthday and feeling pretty good about life!'
We love her attitude!
Take a look at the pics of her night out and tell us, would you wear something like this?
Holocaust Museum Gala Draws Jane Fonda, Rosanna Arquette https://t.co/IBzO6tEDjv pic.twitter.com/LCJMtmVRD9

— Hollywood Reporter (@THR) March 3, 2016
Jane Fonda is 78 but really… she's ageless https://t.co/GtKucGon42 pic.twitter.com/4n8D0BW4TB

— Daily Mail Celebrity (@DailyMailCeleb) March 3, 2016
Jane Fonda is 78 but really… she's ageless https://t.co/GtKucGon42 pic.twitter.com/4n8D0BW4TB

— Daily Mail Celebrity (@DailyMailCeleb) March 3, 2016
Comments