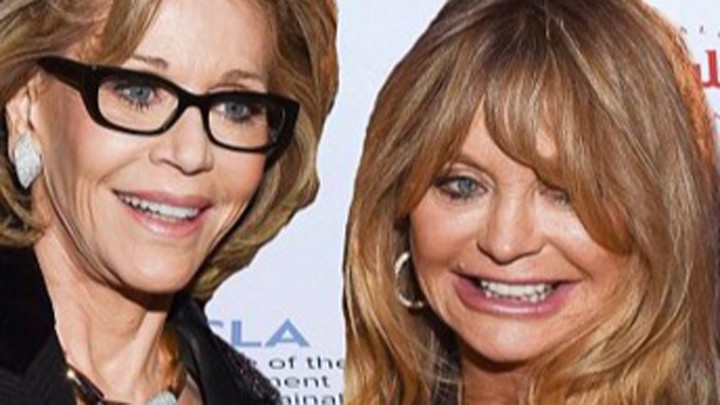 They're both screen sirens in their own right but overnight Goldie Hawn and Jane Fonda reunited at the UCLA Institute Of The Environment And Sustainability Celebrates The Champions Of Our Planet's Future in LA.
It's hard to believe the pair are in their 70s – they looked youthful and happy as they attended the private gala.
Both actors chose to wear black with silver embellishments: Jane in a fabulous pantsuit and Goldie in a v-neck dress.
Jane is currently starring in Grace and Frankie alongside Lily Tomlin on Netflix, and Goldie is locked in to star in a unnamed mother/daughter comedy action movie with comedian Amy Schumer next year.
Just the week, in a radio interview, Jane Fonda revealed advice she received from iconic actress Katharine Hepburn.
"I remember Katharine Hepburn saying to me on the set of On Golden Pond, 'You never could've made it back then,'" Fonda, 78, told the radio host. "She was a prickly one. I just wasn't glamorous. She hated the fact that I didn't put enough attention to how I presented myself."
"She taught me that self-conscious isn't necessarily bad, that it's important to be aware of how you present [yourself.]," Fonda continued. "Not just in what you have on and how you look, but your presentation as a human being in all levels was important".
Clearly Jane Fonda took the positives out of that message and has been doing her own thing for years since.
Take a look at the photos of the two ageless beauties below and share your thoughts:
Goldie Hawn, Jane Fonda, make a glamorous impact at gala https://t.co/Xi3IOYYIV0 via @DailyMailCeleb #ageing #ownitsister

— Sunita Sehmi (@WalkTheTalkGVA) March 25, 2016
Jane Fonda | UCLA IOES Celebrates The Champions Of Our Planet's Future – Arrivals https://t.co/UrDIC9AqdH pic.twitter.com/59bCc6X3jL

— FirstLook LIVE (@FirstLookLive) March 25, 2016
Comments