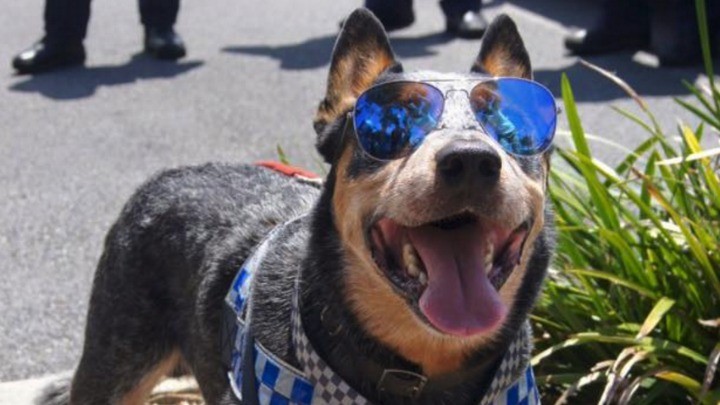 This terminally ill pup was made an honorary police dog by the Queensland Police Service, in a bid to tick off remaining items on his bucket list.
Buddy, the dog, was diagnosed with terminal cancer and ABC news report that his vets have given the blue heller only four or five weeks to live.
Emily Mochan, Buddy's owner, told ABC that she was determined not to waste his last days and wrote a bucket list of 27 things she hoped he would be able to do.
Among eating a string of sausages, riding in a convertible and visiting a day spa, Buddy also wanted to be a police dog.
A wish that the Queensland Police Force granted last Thursday, allowing buddy to assume the role for a day.
"He even rode inside the cop car with the police which was amazing," Ms Mochan said.
In an interview with ABC Ms Mochan tells that she has been blown away by the kindness of people wanting to help out and has created Buddy's Bucket List, a Facebook page to share his adventures – which has now been viewed around the world.
"I made the list so I would be positive with the time I have left, rather than count down the days as that will be daunting.
"It's blown me away how much people are trying to help… It made Norwegian news overnight and I've had support from America, the UK and Singapore… it's been absolutely amazing," she said.
With Buddy's Facebook page going viral, Ms Mochan says people have been flooding her with emails and messages, wanting to donate so he can finish his list.
"It's going viral… people kept asking for my bank account details, but I didn't want to do that so I set up a crowdfunding page."
Ms Mochan describes Buddy as a 'one of a kind' dog, "a character, he's the kind of dog that you can't help but love."
In a short time Buddy has been able to tick a number of things off his list, but there is one more that she would really love to do before his time is up, "I would love Aaron Finch (Australian cricket player) to play with him as he's an amazing sportsman."
Although Buddy is very ill, Ms Mochan told ABC she could tell he was enjoying himself and, "he's still loving life and that's what counts."
"He's very, very aware of what's going on… he also knows he's getting away with everything at the moment," she said.
Money raised from crowdfunding will be put towards helping other families who cannot afford the care Buddy received, and to the RSPCA.
Here are some photos from Buddy's Facebook page:
Tell us, what would you put on a bucket list for your pet?
Comments