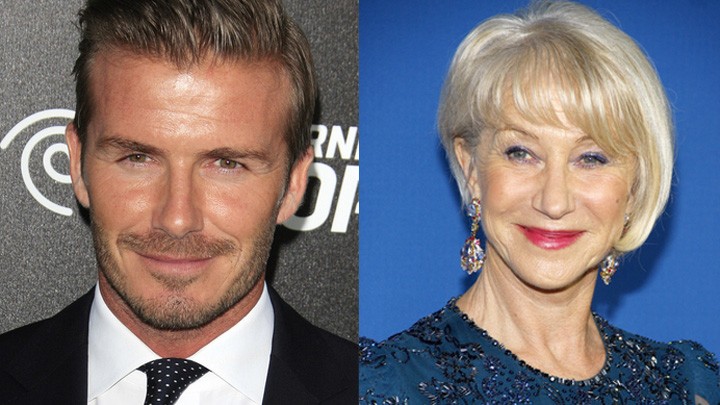 She's among the A-List in Hollywood and he's one of the world's most famous footballers. No, they're not in a relationship – Helen Mirren just adores the very attractive David Beckham!
Just 30 years her junior, the 40-year-old is known for being a doting father to his four children Brooklyn, Cruz, Romeo and Harper. He's often seen carrying or holding their hands, and attending their multiple events, like some sort of super dad.
It's a far cry from the days gone by when men were rarely seen holding their baby let alone pushing a pram.
Helen Mirren says she admires him for not being afraid to be the best father he can be, and we have to agree!
The 70-year-old actress says she can appreciate a young man, especially one that is so loyal to his family.
"When I was growing up you never ever saw a man pushing a pram or holding a baby," she told a ­magazine yesterday, reports the Mirror. "And you know who helped change that? David Beckham".
"The wonderful David Beckham, whom I so admire, was one of the first men to be photo­graphed pushing a pram.
"And because it was David Beckham, the incredible footballer… it suddenly changed the dialogue of what men could be".
Helen hasn't been shy telling the press how much she adores other male actors, including rumoured future James Bond Idris Elba.
"He's a very, very cool guy and he's sensible. He's a Brit and the good thing about us Brits is that we're often sensible, which he is. It was the first time I'd met him and he was very, very charming indeed. … although to tell you the truth, he's so gorgeous, that actually I could hardly hear what he was saying because inside, I was going, 'Oh, my God – you're so gorgeous!'"
Tell us, do you have a bit of a crush on David Beckham or Idris Elba?
Comments