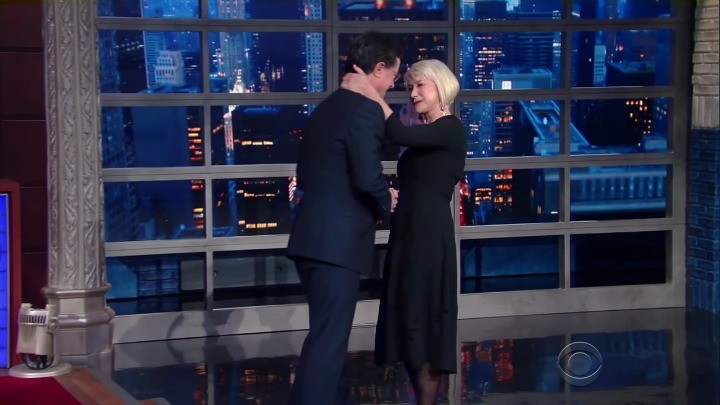 Helen Mirren just made one man's dreams come true and fulfilled a wish of her own too!
The actress appeared on The Late Show with host Stephen Colbert and sparked fireworks between the pair when she greeted him with a kiss on the mouth.
Stephen is seen stretching out his hand to greet Helen, but instead she pulls him in and gives him a smooch square on the mouth.
Stephen was left apparently stunned, but very pleased, and took a minute to return to his desk and start the interview.
Helen, who says she has been a long-time fan of Stephen's, appeared to be blushing as she took her seat and told the host she had been waiting to do that for 15 years.
"If I didn't do it then, I'd never get to do it," Helen told the audience.
"I have been dreaming of doing that for about 15 years so I just grabbed my chance. Sorry!"
There was no need to apologise though as Stephen was very pleased with himself and the kiss.
"That is one of the nicest greetings any guest has ever given me," he said.
"Wow. You know what you're doing!"
We'll just add this to the list of reasons we already love Helen!
What do you think about the kiss?
Are you a fan of Helen Mirren? What do you think about the kiss?
Comments