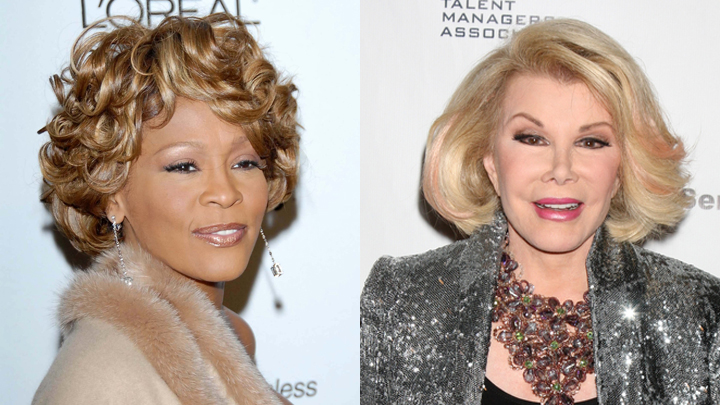 When both Whitney Houston and Joan Rivers died, it shocked the world. The deaths were both sudden and untimely, and the world was left in shock. But news today has revealed that both these talented women's legacies are being sold off – Joan's in the form of all of her possessions, and Whitney in the form of her prized Emmy award.
It raises an interesting debate about whether a family should sell off precious and beloved items of a loved one, or keep them as a memory. In Joan's case, her daughter with whom she was very close, has taken her multi-million dollar treasures and had them auctioned off through Christie's. To be fair, some of the items were extravagant and most likely too large or obscure to keep in Melissa's home, but there are a number of items that some are questioning whether should be sold.
These include a collection of unique ornate jewellery, fabulous clothes and handbags.
Melissa justified her decision to auctioneers Christie's by saying it was what her mother would've wanted. She admitted she had 'very, very difficult decisions to make' when it came to parting with pieces that hold so many cherished memories.
'There is not one piece in this collection that I would not take back,' she explained. 'But I know in her heart, and in my heart, that I'm doing the right thing because my mother maintained that things were meant to be used and loved, and they should go to places where they're going to be used and loved".
As for Whitney Houston, there is now a legal battle between an auction house and Emmy organisers to block the sale of the Emmy award won by the late singer in 1986 for her Grammy ceremony performance of Saving All My Love for You.
The Academy of Television Arts & Sciences filed a lawsuit this week against Heritage Auctions and the late pop star's estate, saying the sale would violate academy rules.
According to USA Today, the academy says Houston won her trophy when the Emmys had a rule that stipulated they were academy property and that an heir seeking to dispose of an award must return it to the academy for storage in "memory of the recipient".
The Emmy was consigned by Houston's family and has a starting bid of $10,000.
Many families have to make tough decisions like these but when it comes down to it: is it right to sell off such precious things?
We'd love to know your thoughts today.
Comments