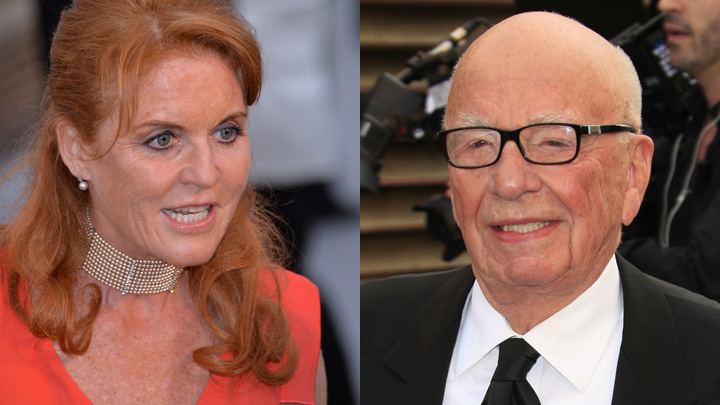 Rupert Murdoch could soon be facing Sarah "Fergie" Ferguson in court – the Duchess of York is set to launch a multi-million-pound legal battle against the former owners of the News of the World.
In 2010, the now-defunct newspaper published footage of her apparently offering access to Prince Andrew for cash, and she wants to sue for damages.
The Mail on Sunday reports the Duchess plans to bring a legal case against Rupert Murdoch's News Group, seeking compensation for years of lost earnings, and claiming the story damaged her reputation.
Sources say the 56-year-old is looking to get money after several failed businesses, and she is in debt.
It is understood the Duchess believes it was entrapment and there was more to the story than what she was purported to be doing.
In the News of the World exclusive, the Duchess agreed to a private meeting in a New York hotel with a reporter posing as a businessman, and was filmed accepting £27,000 in cash and discussing the wire transfer of a further £500,000.
She was heard telling the man, 'Five hundred thousand pounds when you can, to me… open doors. Then that is then, like, then you open up all the channels, whatever you need, whatever you want, and then that's that, what, and then you meet Andrew and that's fine'.
It was met with shock across the world, and the Duchess issued an apology for the incident.
At a charity awards dinner after the story was splashed across headlines, the Duchess said, 'I learned today about making a difference. Most importantly I learned I hate grown-ups and I love children'.
Tell us, do you think Fergie would win a court case against Murdoch?
Comments