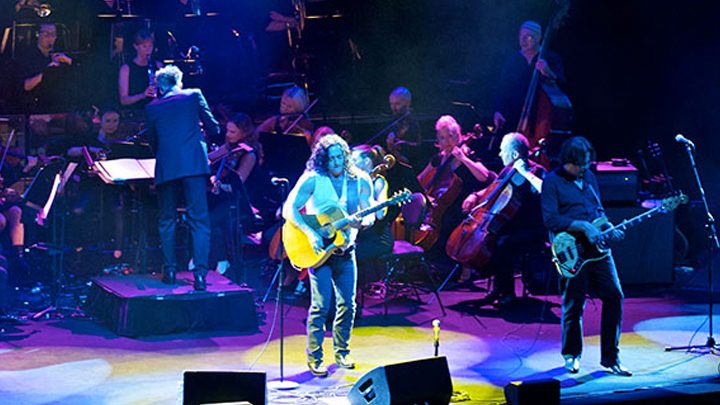 Imagine seeing Led Zeppelin live on stage. The raw power; the iconic riffs; the sheer thrill of seeing the biggest anthems of the '70s brought to life.
Sadly, precious few of us have had the honour. Since the tragic death of John Bonham in 1980, the band's live presence has been limited to a handful of one-off reunion shows.
It's time audiences got to feel that excitement again. It's time to put Led Zeppelin's music back on stage where it belongs.
Led Zeppelin might be a hard act to follow, but this year Stairway to Heaven: Led Zeppelin Masters pulls off the impossible. This massive act features 35 musicians on stage, the talents of Zep Boys, Australia's best-known Led Zeppelin tribute act, and a full symphony orchestra conducted by Nicholas Buc.
Fronting the band is Vince Contarino, who brings every bit as much energy to the stage as Robert Plant.
"Having an orchestra behind me when performing these tunes is such an amazing feeling," says Vince.
"The band on its own is exciting, so when you add the orchestra and the musical arrangements it elevates the whole experience to a completely different level."
"The hardest thing to do is to concentrate on doing the job and not getting carried away with the beauty that surrounds you."
Composer Nicholas Buc had the unique challenge of composing arrangements that could bring out the very best in each song.
"I think their music has a particular muscularity that lends itself to the larger weight that an orchestra can provide," he says.
"The arrangements have been written in a way that accentuates the riffs and grooves that are so iconic to Led Zeppelin, beefing up the core band and really lifting the music to another level.
"Whilst not so well-known for their ballads, songs like The Rain Song and Going to California show the sensitive side of Led Zeppelin that also benefit greatly from the orchestral treatment.
"Whilst it's hard to pick favourites, Achilles' Last Stand and Stairway to Heaven are both monumental songs that were a real treat to arrange.
"They are both quite lengthy songs (Achilles is over 10 minutes!) and so the challenge was to maintain a steady trajectory that builds and builds. I think the orchestra really enjoys performing these too, with plenty of action to keep them busy!"
Stairway to Heaven: Led Zeppelin Masters plays in Brisbane on July 2 and Melbourne on July 8 & 9. Click here to book your tickets!
This post is sponsored by Box Office Hits. For more information on this performance, please click here.
Comments