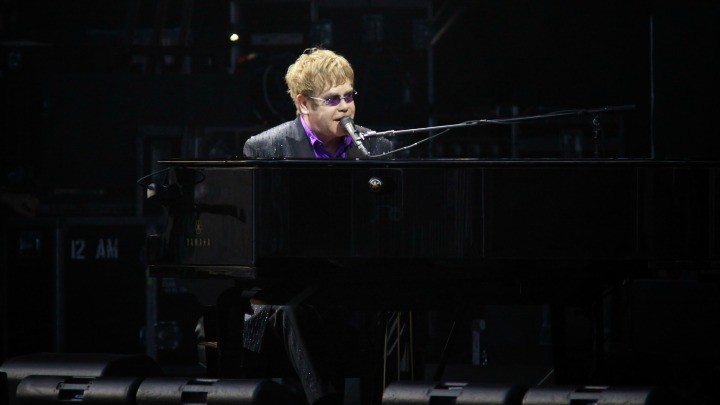 Elton John will wrap up his Australian tour in Sydney this weekend having received rave reviews for his low-tech, high-energy performances.
It's been a busy year for Elton, who has performed 94 concerts, campaigned tirelessly for AIDS awareness, played celebrity tennis matches and recorded his 33rd album, Wonderful Crazy Night. 
But the 68 year old says he's nowhere near slowing down, telling the BBC, "I'm not retiring. I'm still enjoying myself so much. I'm 68 and I feel like I'm in the prime of my life."
Watching his energy on stage, hearing his still-perfect voice and seeing the fun he has with his band, including long-time offsiders Davey Johnstone on guitar and drummer Nigel Ollson, it's easy to see that Elton is not ready to retire.
But he's not resting on his laurels either.
The purple-coated pop legend said he continues to enjoy writing and producing new music, rather than relying on his old hits to keep people interested.
"Some people don't make records any more, like Billy Joel," he tells the BBC. "They still have wonderful careers but I'm not like that. I want to be creative. It keeps you young.
"I've been asked to do Motown covers, Christmas records, he says. It's not going to happen, –  I don't want to sing standards. They don't mean anything to me. They're music from an era gone by. If I want to hear them, I'll put on Sarah Vaughan and Ella Fitzgerald and Frank Sinatra and I'll enjoy them.
"But I couldn't sing them because that would just be a commercial exercise and I don't want to do that."
That said, Elton's new album "marks a return to his roots as a vaudevillian rock star". In other words, it's got those killer piano riffs and catchy choruses we love from so many of his previous hits.
"It needs to be played loud," Elton says. "It's not Enya!"
Over four decades, Elton has noticed plenty of changes to the way we enjoy music, most notable that albums need to be shorter.
"I think 42 minutes is the perfect length because people don't have the attention span they used to," says Elton. "In the old days it was different – you could put out double albums and people would sit there and really listen. They don't do that any more. They download, they listen to two minutes of a single. Times have changed."
Wonderful, Crazy Night is out on Virgin EMI in February 2016, and Elton has just released this live recording of the title track. Keep your eyes on the band – they're all having so much fun!
What's your favourite Elton John song? Have you ever seen him perform?
Comments