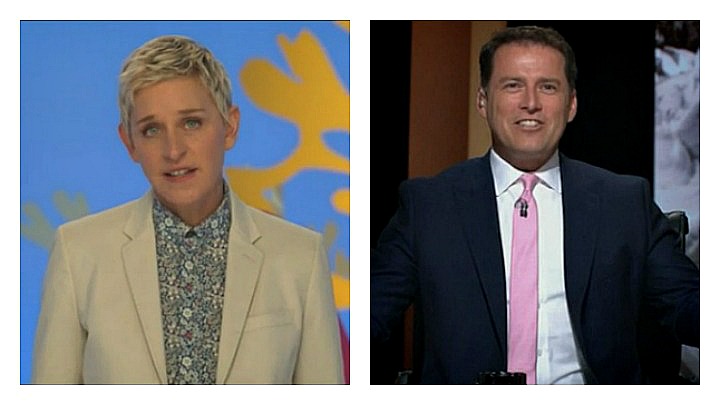 Earlier in the week, Ellen DeGeneres delighted her Australian fans by throwing her support behind a campaign to raise awareness for the Great Barrier Reef and help keep it alive, thriving and beautiful for years to come.
One man who wasn't too impressed though was Today show host Karl Stefanovic who, on Wednesday, issued a scathing review saying she was only interested in saving the Reef now because her new movie Finding Dory is set there.
Karl says he believes she is just doing it as publicity for her film and not because she actually cares about the Reef.
"My concern is she's gotten involved in that around the whole notion of selling a movie anyway," he said.
"And Disney's got behind it as one of their linchpins for launching this film,' he said of the movie.
"But secondly, The Great Barrier Reef Foundation is, I think, the best at doing work with trying to save the Great Barrier Reef. They're scientific-based and they do wonderful work," Karl said.
"So on two fronts I think Ellen's missed the mark," Karl added. "It's probably not her fault, it's probably her advisers. But it just doesn't sit well with me."
Ellen is sticking to her guns though and is reportedly 'bewildered' by the attack from Karl.
She has brushed of Karl's criticism saying at least it's got people talking.
"I put out a PSA (public safety announcement) because I do believe we should protect our oceans and protect the reef, and I don't know what's controversial about that," Ellen said.
She also added that she's glad to know that the government has committed itself to supporting the Reef.
"If they are pouring money into it, good for them," she said. "I'm glad they are."
Earlier she expressed her surprise at the backlash she was receiving from Karl as well as Environment Minister Greg Hunt who both sent her public messages on social media criticising her campaign.
"I didn't know it was a controversy but that's exciting that people are talking about it,' Ellen told News Corp.
"But that's a good thing, right? There's nothing wrong with trying to protect the reef.
"I am happy to put my name on it and get behind it. It's important to me – I think we have to pay attention to the entire planet," she said.
Ellen is regarded as one of the most influential people on the planet so there are hopes that her support of the reef will make a real difference when it comes to keeping it alive and beautiful for generations to come.
Do you think Karl is right and that Ellen is only doing this to promote her movie? Or has Karl missed the mark here?
Comments