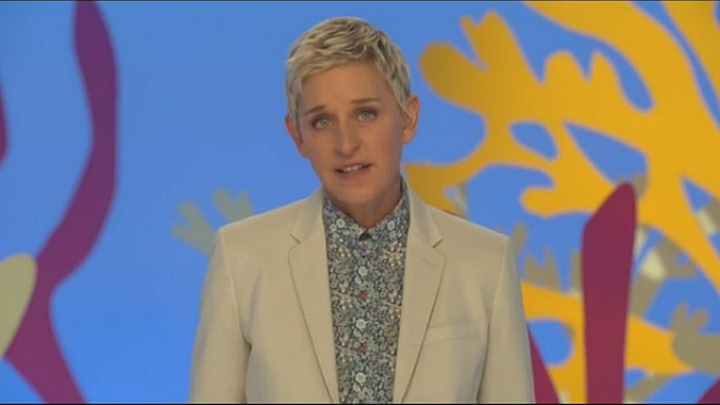 Popular talk show host Ellen DeGeneres is known for her love of animals and the environment and now she is bringing that love all the way to Australia as part of a plan to help save the Great Barrier Reef.
Ellen, whose new movie Finding Dory is set in the Reef, released a video message asking Australia to join her in saving the beautiful natural wonder, which is under threat from global warming and coral bleaching.
"Hi Australia, it's me, Ellen DeGeneres," she says in the video.
"As you may know, I'm a big fan of your beautiful, great, wonderful Great Barrier Reef, which is home to my favourite fish, Dory.
"And as you may remember – but Dory probably doesn't – she's a blue tang and has many other amazing species that live in the reef with her.
"It's critical that we protect this amazing place, and we'd like your help."
Her call to action is part of a wider Disney campaign, Remember The Reef, which aims to bring awareness to the reef around the world.
"Not only is it beautiful, it is home to the most diverse range of plants and animals like Regal Blue Tangs (Dory), Clownfish (Nemo and Marlin), green sea turtles and so much more," Disney says on its website."
Ellen hopes that raising awareness of the reef's decline will ensure its beauty and diversity lives on for future generations.
"The Great Barrier Reef is one of the seven natural wonders of the world," it says.
"Like many coral reefs worldwide, the Great Barrier Reef is under threat from bleaching, storm damage, poor water quality and climate change."
Ellen has long been a fan of Australia and his married to Aussie actress Portia De Rossi. The couple are vegans and regularly rescue and adopt animals from local shelters.
The plight of the reef has been a major concern lately, with environmentalists calling for people to take action on climate change to stop naturally occurring coral bleaching and help return the reef to its former glory.
It has already become a hot topic in the election, with Labor pledging $500 million to support the reef if elected.
What do you think about Ellen's involvement in trying to save the reef? Do you think more needs to be done to protect the Great Barrier Reef?
Comments