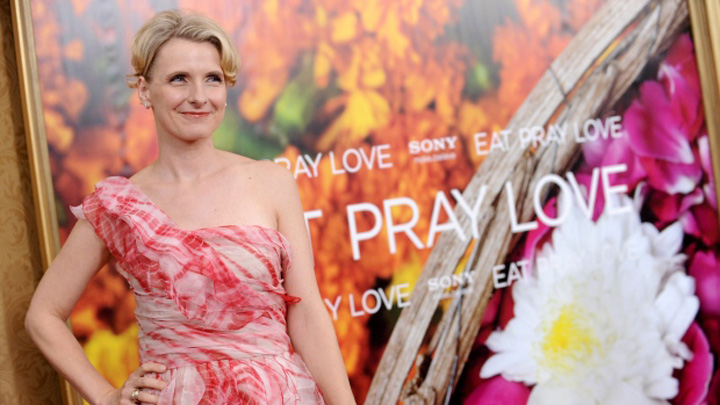 It was the book that sent women around the world into a frenzy. After spending over 150 weeks at the top of New York Times' best-seller list in 2006, the novel Eat, Pray, Love was made into a feature film starring Julia Roberts. It was a worldwide smash too, and gave hope to millions of women looking to make a life change and be the person they've always wanted to be.
Now there's been some sad news for author Elizabeth Gilbert: she's ended her marriage to her husband Jose Nunes after 12 years together. Fans of the book will remember Liz marries "Felipe" at the end, after several failed relationships.
In a post on Facebook, Elizabeth revealed that she and Jose would be separating.
She called the parting "very amicable" and the reasons "very personal", reports CTV News.
In her post she wrote:
"Dear Ones –
Because I have shared details of my private life with you all so intimately over the years, I feel the need to share with you this recent change in my personal life.
I am separating from the man whom many of you know as "Felipe" — the man whom I fell in love with at the end of the EAT PRAY LOVE journey. He has been my dear companion for over 12 years, and they have been wonderful years. Our split is very amicable. Our reasons are very personal.
At this time of transition, I hope you will respect our privacy. In my heart, I know that you will do so, because I trust that you understand how this is a story that I am living — not a story that I am telling.
I thank you for your love, and for your kindness, and for your continued blessings. Hold us in your thoughts. And I hope you will understand and forgive me if I am a bit absent from social media during this sensitive moment.
Lastly, I wanted to share this poem, written by the poet-of-my-heart Jack Gilbert. This poem has been helping to carry me through this experience. Perhaps it will help some of you, also:
Blessings, and all my love,
LG"
The poem she mentioned was this:
Everyone forgets that Icarus also flew.
It's the same when love comes to an end,
or the marriage fails and people say
they knew it was a mistake, that everybody
said it would never work. That she was
old enough to know better. But anything
worth doing is worth doing badly.
Like being there by that summer ocean
on the other side of the island while
love was fading out of her, the stars
burning so extravagantly those nights that
anyone could tell you they would never last.
Every morning she was asleep in my bed
like a visitation, the gentleness in her
like antelope standing in the dawn mist.
Each afternoon I watched her coming back
through the hot stony field after swimming,
the sea light behind her and the huge sky
on the other side of that. Listened to her
while we ate lunch. How can they say
the marriage failed? Like the people who
came back from Provence (when it was Provence)
and said it was pretty but the food was greasy.
I believe Icarus was not failing as he fell,
but just coming to the end of his triumph.
Tell us, did you love Eat, Pray, Love? Do you know how Elizabeth would be feeling?
Comments