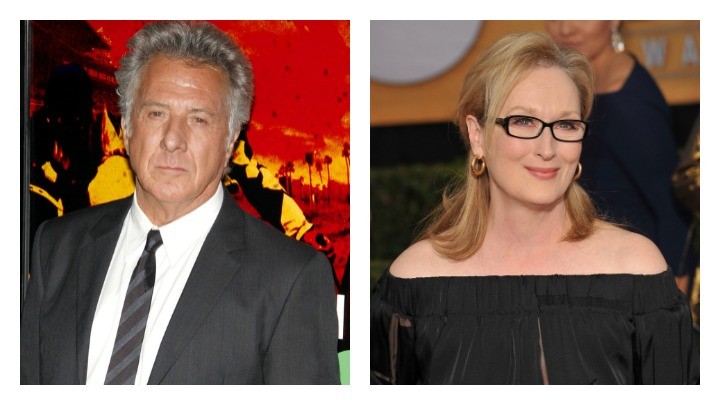 Dustin Hoffman and Meryl Streep rocketed to fame after starring together in the award-winning movie Kramer vs Kramer, but new claims about a number of incidents that occurred on set have shocked fans around the world.
A new book by author Michael Schulman tells the story about Dustin's extreme behaviour as he tried to help Meryl prepare for her scenes in the movie.
An excerpt of the book, titled Her Again: Becoming Meryl Streep, was published in Vanity Fair this month and says Dustin struck Meryl hard across the face on the second day of filming.
"Dustin and Meryl took their positions on the other side of the apartment door," writes Schulman.
"Then something happened that shocked not just Meryl but everyone on set. Right before their entrance, Dustin slapped her hard across the cheek, leaving a red mark."
Meryl somehow managed to remain professional and carry on with the scene, but Dustin wasn't done there.
In a later scene he stood off camera and "taunted" Meryl about her boyfriend of two years, John Cazale, who had died from lung cancer not long before filming started.
"He was goading her and provoking her," film executive Richard Fischoff said, "using stuff that he knew about her personal life and about John to get the response that he thought she should be giving in the performance."
Streep was shocked by the taunts and went "absolutely white" according to Fischoff.
Later Dustin quietly told the cameraman that he was going to scare Meryl by breaking a glass as he exited the scene.
"Between takes, he approached the cameraman and leaned in," writes Schulman.
"'See that glass there on the table?' he said, nodding toward his white wine. 'If I whack that before I leave' — he promised to be careful — 'have you got it in the shot?'
"'Just move it a little bit to the left', the guy said out of the corner of his mouth.
"In the next take, Dustin smacked the wineglass and it shattered on the restaurant wall. Meryl jumped in her chair, authentically startled. 'Next time you do that, I'd appreciate you letting me know,' she said."
Streep was left with shards of glass in her hair.
According to the film's director, Robert Benton, Meryl didn't complain once about Dustin's taunts.
"I never saw one moment of emotion leak out of her except in performance," Benton said.
Meryl went on to win an Oscar for her role in the movie, while the film was nominated for nine Academy Awards, and won five of them, overall.
Despite Meryl's professionalism and the movie's success, the story of Dustin's on set antics have left many wondering if he went just a little too far in his quest for a great performance.
What do you think?
Was Dustin out of line when he slapped and taunted Meryl? Is this kind of behaviour acceptable just because they're actors?
Comments