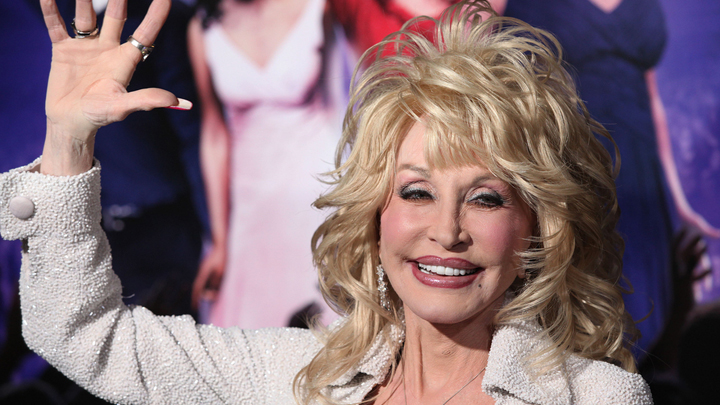 This week has been a wonderful week for Dolly Parton. Her TV special premiered in America, and now she has announced two surprises – it's like Christmas has come early!
Firstly, the 69-year-old country singer has just joined photo-sharing app Instagram, and for her first post, she enlisted the help of some friends on The Voice.
"Well hello everybody! I thought I would kick this off with a bang, so I brought some friends to help out!", Dolly captioned the pic of her alongside The Voice judges Blake Shelton, Pharrell Williams, Gwen Stefani and Adam Levine.
Dolly looked her vibrant self in a beautiful white pant suit.
She's already become addicted to the popular social media platform, posting 5 photos already!
The other big news for future fans is the announcement that Dolly Parton will be compiling a time capsule to be opened on her 100th birthday.
Music News reported the 69-year-old has been collecting childhood keepsakes and other cherished memorabilia to seal away in a treasure chest, which she plans to unlock in 30 years time.
"What we're gonna put in this is little pieces from my childhood, from the porch where I used to sit and sing with a tin can for a microphone, and a song I wrote this year, called My Place in History, and I'm gonna open it when I'm 100…," she told US breakfast show Today.
"I think my childhood made me everything I am today," she told Entertainment Tonight. "I would trade nothing for being brought up in the Great Smoky Mountains. I've never been ashamed of my people, no matter how poor or dirty we might have been. I've always loved being from where I am, and having the folks that I've had.
"It's that spiritual base; it's that family; love of family; it's just that simple life, feeling like part of nature".
Take a look at Dolly's great Instagram pics and tell us, what memorable item or CD should Dolly put in her time capsule? 
Comments