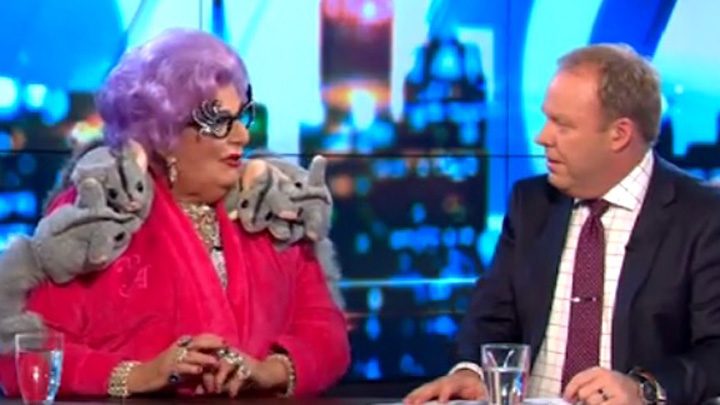 It was supposed to be a light-hearted segment with one of Australia's favourite celebrities but Dame Edna's appearance on The Project last night left many scratching their heads.
Barry Humphries alter ego Dame Edna Everage was in true form, complete with possum shoulder pads, though her comments on Waleed Aly's appearance left a sour taste in some viewers' mouths.
Waleed Aly is an Australian Muslim with a dark complexion, and he genuinely looked perplexed by her insistence he "really does look like this. He does! It's not a trick of the lights!"
Dame Edna called him "Little Wally" and a confused Aly responded: "I'm just trying to figure out what response you are looking for here".
She then became the star, host and producer of the show, leaping from question to question, taking no notice of the questions she was being asked, instead asking mother of two Carrie Bickmore, "Did you have stretchmarks as a result?"
On the show to promote her new pyjama range, Dame Edna spoke about "making bed fun" before taking a swipe at Aly: "Now, I don't know if you believe in that, Waleed", no doubt referencing his faith.
It got worse: when asked about the Queen's recent 90th birthday by co-host Peter Helliar, Edna said: "Isn't it wonderful? Waleed doesn't think so. I bet you are an old pinko, are you?"
Malcolm Turnbull was thrown into the conversation, and Dame Edna revealed she's in full support of the prime minister, unlike Waleed. "I would disagree with Waleed — I think Mr Turnbull is a very strong and very impressive Prime Minister", she said.
The tweets came in thick and fast about the awkward segment, with many questioning the character's sobriety or lack thereof.
Did you watch last night? Here's a clip if you missed it. What's your verdict?
Is Barry Humphries/ Dame Edna off his/her head live on air? This is seriously sooo awkward? #TheProjectTV

— Cillian Naughton (@Cilliwhut) April 28, 2016
I feel excruciatingly uncomfortable right now…#theprojecttv

— Anthony M. (@Madaferrari) April 28, 2016
Dame Edna just seems outdated and racist now. #DameEdna #notfunnyanymore

— okthen (@vickiross22) April 28, 2016
I don't understand #DameEdna at all.

— Matt (@DoctorIMatt) April 28, 2016
Comments